Institute of Welsh Affairs debate BBC Wales and S4C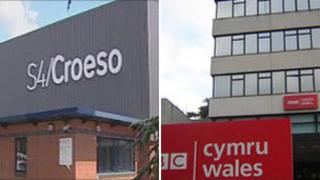 Welsh-language channel S4C can maintain its independence in a new partnership with the BBC, its chairman believes.
Huw Jones says despite cuts to funding it will continue to make an important contribution to the culture of Wales.
He will speak at a conference in Cardiff to debate broadcasting in Wales including cuts at BBC Wales.
Media expert Professor Ian Hargreaves, who is chairing the conference, said broadcasting in Wales was at a crossroads.
Mr Jones will deliver a lecture about his vision for the future of S4C at the event organised by the Institute of Welsh Affairs on Tuesday.
The UK Government is handing over part of the responsibility for funding S4C to the BBC.
Mr Jones said the Welsh-language channel faces a 36% budget cut by 2015.
But he said by 2015 S4C will be "leaner but more effective".
"It will be a multi-media organisation responsible for commissioning and broadcasting original content which will make an important contribution to a rich and attractive culture through the medium of Welsh," he said.
On discussions between S4C, the BBC Trust and the Department for Culture, Media and Sport (DCMS) regarding arrangements for finance, governance and management at the channel from 2013-14 onwards Mr Jones said he did not believe "it was all over for S4C's independence" in the new structure.
"I believe it's possible, by continuing our discussions, to come to an agreement which, on the one hand, will acknowledge the fact that most of S4C's budget from 2013 will come from the television licence fee and, on the other hand, that there is a commitment for S4C to keep its operational and editorial independence while creating a practical new partnership with the BBC."
Budget cuts at BBC Wales and the future of ITV regional news will also be discussed at the conference.
Earlier this month BBC Wales said it would save £10.7m over five-years, shedding about 100 of its 1,200 staff.
Prof Hargreaves of Cardiff University said: "It is very important Wales works out what it wants, what it needs and the extent to which Welsh politicians want to be involved in shaping that future.
"It's a crossroads, there are big decisions and that's why I think a lot of people will want to get together and really talk all this through today."