Swansea's Liberty Stadium losses estimated at £533,000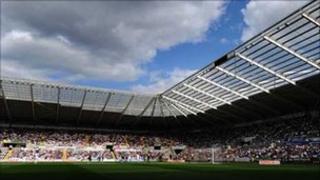 The Liberty Stadium in Swansea is continuing to make losses, leading to an estimated deficit of over half a million pounds.
The draft figures contained in a Swansea council report show a projected loss of £118,000 for 2010/11.
The stadium, run by Swansea Stadium Management Company (SSMC), is the home of Swansea City and the Ospreys.
SSMC, a partnership of the Swans, Ospreys and Swansea council, did not wish to comment.
The figures will be discussed by the council on Thursday, along with facilities such as the national pool.
A report to the council cabinet said the projected loss of £118,000 meant the stadium now had a cumulative loss of about £533,000.
"Under the joint venture signed by the parties, responsibility for guaranteeing all losses rests with the clubs," it said.
Accumulated losses
The report also said there had been "concerns" over the SSMC business plan.
"Whilst the current draft plan includes a targeted surplus of £60k, there are issues over the allocation of policing costs and addressing accumulated losses. SSMC must deal with these over the coming year," it said.
However, it was also recognised that the stadium had "contributed hugely" to the success of both teams.
"At the time the Swans moved to the stadium, they were very close to being relegated from the football league and are now in the Premier League," the report said.
"At the same time, the newly formed Neath-Swansea Ospreys were struggling financially whilst based at St Helens ground and are now one of the leading European rugby clubs boasting a squad of international players.
"Through the development and success of both clubs the profile of Swansea as a city and destination has increased."
Hundreds of jobs
The Swans and the Ospreys moved to the £27m Liberty Stadium in 2005 after the council paid most of the money to build it.
The sports teams pay a peppercorn rent and contribute to the running costs of the stadium, with any profit made being returned to the teams and the local authority.
After Swansea City won promotion to the Premier League last season, opposition councillors in Swansea called for the club to pay more rent for their home ground.
But council leader Chris Holley said the stadium was generating hundreds of jobs and a new business plan was being worked out.
The council cabinet will discuss the SSMC on Thursday as well as other leisure partnerships, for the Wales National Pool Swansea, the National Waterfront Museum and the LC leisure centre.