Serbia trip for six old fire engines from south Wales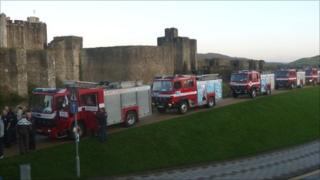 South Wales firefighters have started a journey across Europe to deliver six old engines to counterparts in Serbia.
The redundant fire engines have come to the end of their working life under British standards.
The convoy from South Wales Fire and Rescue Service started from Caerphilly on Wednesday morning.
They expect to take five days to make the 1,400-mile journey (2,253km), passing through Germany and Hungary en route.
The engines are being recycled and donated to the Serbian fire service to help replace their out-dated machines.
Steve Logan, commander of Caerphilly fire station, said the idea to pass on the engines came about after a visit to Serbia in 2006.
'Right and proper'
The oldest fire engine he saw was a converted Russian army lorry from the 50s.
"They don't have a lot of equipment and equipment they have is very old," said Mr Logan.
"We are very well blessed in Wales with good fire engines, good equipment, so the stuff we no longer use, it's only right and proper that we can reuse and relocate it to somewhere like Serbia."
An old fire engine from south Wales was sent to Serbia last year.
The 3,000-mile round trip was made by firefighters who raised £1,500 for the journey.
Over three years, 24 engines will be sent to Serbia.