Two arrested Cardiff men, 18, released by police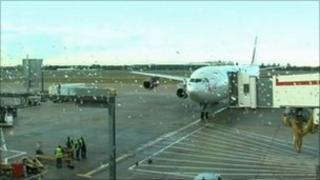 Two 18-year-olds from Cardiff, deported from Kenya on Wednesday, have been released without charge, say police.
Mohamed Mohamed, and Iqbal Shahzad were detained by the Metropolitan Police under the Terrorism Act, after flying into Heathrow Airport at 17:00 BST.
The men had been arrested close to the Kenyan border with Somalia, over suspected links to Somali militants.
The force said they were released at 23:00 BST on Wednesday and no further action would be taken.
It had been expected that they would be questioned by South Wales Police.
The father of Mohamed Mohamed, of Somali descent, alerted police and flew out to find his son.
It is understood no charges were brought against Mr Mohamed and Iqbal Shahzad, who is of Pakistani descent, by the Kenyan authorities.
They were deported on Wednesday after questioning by the police's anti-terrorism unit.
The father of the Somali Briton told the BBC he travelled to Kenya after his son disappeared from the family home in Cardiff.
Abdirhman Haji Abdallah alerted the High Commission in Nairobi as well as the Kenyan police and gave them a photograph of his son.
'Anxiously waiting'
Security forces arrested his son Mohamed very close to the Somali border along with his friend.
Mr Abdallah said he was reunited with his son in Nairobi where police said they would not prosecute as he had not crossed the border into Somalia, but would refer the matter to the UK authorities.
The case of the 18-year-olds, understood to be missing from Cardiff for more than a week, was discussed at a community meeting in the Grangetown area of the city on Sunday.
A joint statement from the Muslim community in Cardiff said the Somali and Pakistani community in particular, and the Muslim community in general, are anxiously waiting for the arrival of the pair.
"The families of the two youths are thankful to God that they are both safe and well," said the statement.
"Once the families realised that the two youths were missing, the authorities were notified. We are grateful that the authorities in collaboration with the communities were able to establish the whereabouts of the youths."
Cardiff South and Penarth MP Alun Michael said there had been a very positive response from the local community.
"From what I have been told they are two bright, intelligent young men who have got their lives before them," said Mr Michael.
The arrests came against a background of an air and ground assault by Kenya into Somalia at the weekend.
Somali militant group al-Shabab has warned Kenya to withdraw its troops from Somalia, or face bloody battles.
Kenya had responded to several recent cross-border abductions it blames on al-Shabab.