Fans at Millennium Stadium see Wales lose cup play-off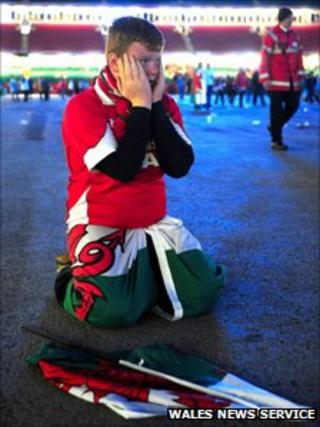 Over 16,000 fans were at the Millennium Stadium to watch Wales lose to Australia in the Rugby World Cup third-place play-off on its big screens.
Despite two tries from Shane Williams and Leigh Halfpenny, they went out in fourth place with the Wallabies winning 21-18.
The stadium gave away free tickets for fans in Cardiff to watch the game on video screens live from New Zealand.
The stadium said 16,246 fans had turned up for the free screening.
Millennium Stadium general manager Gerry Toms said fans had been keen to be at the stadium for the play-off game.
"It's a working day, it's a Friday and vastly different from the weekend," said Mr Toms.
Feeling confident
They watched as Shane Williams scored a try in his penultimate game. Leigh Halfpenny also crossed the line in the last minutes of the game at Eden Park in Auckland.
But Wales eventually lost 21-18.
Fans at the stadium were feeling confident ahead of the game and proud of the way Wales had performed during the competition.
Early start
Alan Davies, who is originally from Pontypool in Torfaen, travelled with his family from his home in Buckinghamshire to watch the game.
"I started off at about four o'clock this morning so I was up at about three-thirty. I'm Welsh through and through," he said.
"I might not have a Welsh accent but I'm purely Welsh.
"There's a lot of pride - beat the Australians down under and that would be brilliant and would set it up for the game [against Australia] in December."
Brendan Murphy, from Gelli in the Rhondda, added: "I'm very confident we can beat them today. I think we can beat them by 10 points.
"We should be in the final. The boys have done so well in this World Cup."
Mr Toms said he was still amazed at the scenes witnessed at the stadium when Wales narrowly lost to France 8-9 in the semi-finals.
'Wave of emotion'
Initially, 25,000 tickets were released last week, but organisers released tens of thousands more when the huge demand became clear.
The crowd in Cardiff was bigger than that watching the actual match at Eden Park in New Zealand.
"Of all the events we've done since the Millennium Stadium opened, in terms of atmosphere, that was the most exciting.
"There was just a wave of emotion across the stadium which was infectious."
He said after the final whistle they could have "washed the stadium with tears".
Dressed in red
Employers across the country also entered into the rugby spirit.
Edwards Coaches in Llantwit Fardre, Rhondda Cynon Taf, have a close link with the Welsh team, providing team coaches for the WRU.
Commercial director Jason Edwards said a small screen had been set up in the HQ's garage and employees had been encouraged to come to work dressed in red and to support the team.
"The drivers have all got red hats and scarves on," he said.
"We've got bacon rolls on order for eight o'clock, we've got teas and coffees, so it's an unusual sort of day for us having an international during a working day.
"We are trying to get behind and support the boys."
Mr Edwards added that drivers out on the road were being allowed to have the radio on.
"We encourage it - a little background noise for the passengers," he said. "Don't forget the passengers want to hear what's going on."
Before the game. Wales assistant coach Robin McBryde said the team was desperate to clinch third place in the tournament before returning to Wales.
"We can create a bit of history away from home, so it's not all lost," he said.
"But we will look forward to getting that welcome home back in Wales after a win on Friday night."