Aberfan disaster lesson not learned abroad, says expert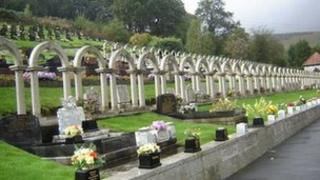 An expert says some developing countries are yet to learn lessons from the 1966 Aberfan landslide disaster.
Following the tragedy major changes were made in the way mine waste was managed across Wales and the UK.
On the 45th anniversary of the disaster which killed 144 people, Prof Dave Petley said similar tragedies were still occurring overseas.
The expert from Durham University said there was still much to do to change practices elsewhere in the world.
One hundred and sixteen children were among the dead when coal slurry slid on to Aberfan school and 18 homes in the village.
Prof Petley, director of the university's Institute of Hazard, Risk and Resilience, said as a results of changes in the UK, there had been no repeat.
But he said they were "still relatively common in the developing world".
He said three years ago a mine waste landslide struck the village of Taoshi in China killing at least 128 people, and further waste accidents have occurred in China and elsewhere since.
"The dreadful calamity of the Aberfan landslide disaster remains perhaps the most poignant and memorable disaster in the UK since the Second World War," he said.
"The combination of a failure of responsibility by the relevant authorities, the dreadful events in the moment of the landslide, the heroic but mostly futile rescue attempts and the regrettable behaviour of some parties in the aftermath of the disaster created an extraordinary mix from which there was much to learn.
"There are many positive legacies of the disaster, most notably the dramatic improvements to the management of mine wastes here, but there is still much to do to ensure that these lessons are absorbed elsewhere in the world."
He has dismissed arguments by authorities at the time that the events at Aberfan were unprecedented and could not have been predicted, given previous incidences of waste slippage in the area.
He added: "In Wales and across the UK this tragedy at least led to major changes for the better.
"But it is clear that much more needs to be drawn from Aberfan's experience elsewhere in the world."