Fall in Welsh uni applications second-smallest in UK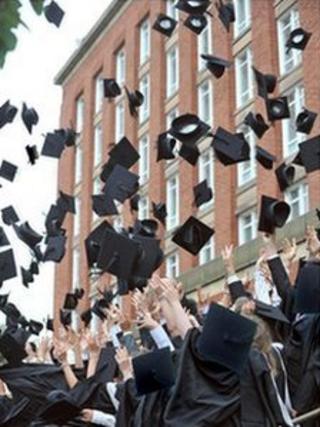 The number of Welsh people applying for university places is down 8.3% this year - the smallest drop of any UK nation and region outside the south-east of England.
The admissions service Ucas revealed there are 2,004 applicants from Wales, 182 fewer than in 2011.
The NUS warned Welsh students might be basing their decisions on the funding system for English universities.
Welsh students will avoid a hike in tuition fees when they go up next year.
Applications to Welsh institutions from people in Wales are down 135 (10.2%), while the number of Welsh applicants who want to study in England has fallen by 81 (4.3%), according to preliminary figures on applications to UK universities up to 19 October.
The final deadline for most courses is January - but Oxford and Cambridge and medical school applications have now closed.
Universities are preparing to charge higher fees in the next academic year, but Welsh students will not pay the increased cost regardless of where in the UK they study.
Eight Welsh universities have been allowed to charge the maximum tuition fee of £9,000 a year from 2013.
It is thought most Welsh students will pay roughly £3,400 a year with the Welsh government paying the rest.
Ministers say they are confident the £280m-a-year subsidy is affordable, despite questions by opposition parties about paying for it.
Applicants from European Union countries will also be eligible for the subsidy, though students from England, Scotland and Northern Ireland will pay the full rate.
'Afford to pay'
The Welsh government said it had introduced the "most equitable student finance system Wales has ever had".
"We've been clear, access to higher education should be on the basis of the individual's potential to benefit, and not on the basis of what they can afford to pay," a spokesman said.
NUS Wales president Luke Young said: "Even in the devolved governments of Wales, Scotland and Northern Ireland, where students will be paying lower fees, there is a knock-on effect as young people reconsider going to university.
"Although Wales has seen the lowest fall in applicants, it is deeply concerning that they may be basing their options on a funding system for English students.
"The drop in the number of students from England coming to Wales is reflective of the overall decrease of English students applying to university at this stage."
The number of English students applying to study in Wales is down 710 (13.4%).
The Conservatives said the drop should be a "harsh wake-up call" for Education Minister Leighton Andrews.
Shadow education minister Angela Burns said: "His wafer-thin tuition fees policy is based on a steady flow of students from England alleviating costs."
Across the UK, Ucas said applications for university courses were down 9% compared to 2011.