Safety hopes in £150m Heads of the Valleys road plan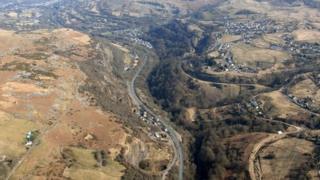 Ministers say they hope a plan to turn the Heads of the Valleys Road in south Wales into dual carriageway will improve safety and cut travel times.
The Welsh government wants to turn the whole of the A465 road from Abergavenny to Neath into dual carriageway by 2020.
Public exhibitions are opening to show the latest stage, with some 5m (8km) between Gilwern and Brynmawr due to be upgraded at a cost of £150m.
Local councillors also hope that it will boost the local economy.
It is one of the busiest roads in Wales with 473 accidents reported between 2005 and 2010 along its entire length.
Shorten travel times
Transport Minister Carl Sargeant said the exhibitions aimed to give people a chance to see the proposed designs of the section between Gilwern in Monmouthshire and Brynmawr in Blaenau Gwent.
"The A465 is a crucial artery of our transport network and the principal road link between west Wales and the Midlands," he said.
"Dualling the Heads of the Valleys Road will help improve safety, shorten travel times for commuters and businesses and contribute to the wider regeneration of the region."
It falls within the Brecon Beacons National Park and passes through Clydach George.
"This route passes through some very beautiful and environmentally sensitive areas, which is why we have ensured that contractors are mindful of these issues from the outset," he added.
David Lyn Elias, a county councillor for Brynmawr, said it was important the work was planned to cause as little disruption to existing businesses as possible.
"The hope is it will bring economic development and new business into the area and I sincerely hope that's the case and it does not just become an expressway through this borough," he added.