Rhodri Morgan becomes Swansea University chancellor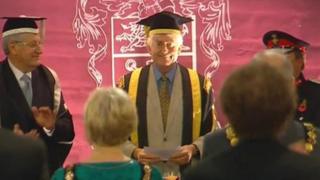 Former First Minister Rhodri Morgan has been installed as chancellor of Swansea University.
Mr Morgan, whose parents graduated at Swansea, took part in an inauguration ceremony on Monday.
The former Cardiff West MP and AM, who stood down as first minister two years ago, said he wanted to "help the university achieve its ambitions".
Vice-chancellor Prof Richard B Davies said the university could "look forward to a bright future".
Mr Morgan's parents graduated from Swansea in the 1920s. His father and brother were also academics there.
Mr Morgan, who became first minister in 2000, was educated at Harvard and Oxford universities.
He was MP for Cardiff West from 1987 to 2001, becoming AM for Cardiff West at the first assembly election in 1999.
The university said his role as chancellor involved raising the institution's profile.
Eminent career
It added: "Rhodri Morgan brings an unparalleled breadth of experience and vision to the role of chancellor with his distinguished academic record, and eminent career as a public servant, culminating in him becoming first minister for Wales."
Mr Morgan said: "I am particularly excited by the development of the new Science and Innovation Campus, which demonstrates the scope of Swansea's ambition and will capitalise on the university's growing reputation in research and its interaction with major international knowledge economy companies.
"It will also help close the deficiency in the science and technology base in Wales."
"Swansea University will over the next quarter of a century be making a major contribution to that effort. As chancellor I want to help the university achieve its ambitions."
Prof Davies said: "I know that he shares in our ambition to be a world-class, research-led university."
He added: "Under Rhodri Morgan's distinctive chancellorship, we can look forward to a bright future."