South Wales Police helicopter's Twitter crime fight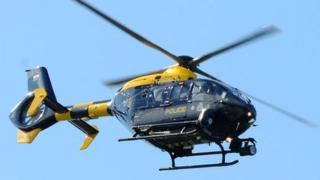 Police patrolling the skies above south Wales say Twitter is proving an effective weapon in their battle against crime and disorder.
Officers who use the police helicopter have an array of technology on board, but they credit the tweet power for helping them keep the region safer.
Under the name Helicops, the team have been tweeting for the past year, giving details of every job they are called out to, and now have more than 4,200 followers.
They say the success has been so great that other force choppers around the UK, including in the west Midlands, south Yorkshire and the south east of England, are now following their lead.
But how can a tweet with a maximum of just 140 characters really make a difference to the way police work?
"We have found that people have rung 101 with details of a crime after they have seen we have been in the area on Twitter," said Insp Gary Smart, the officer in charge of the helicopter, which is officially called the South and East Wales Air Support Unit.
Public awareness
"Our tweets may trigger a memory of something suspicious and that information may help us. It's something we'd like to see more of - the more information we get the better."
Crime fighting aside, the initial reason the helicopter team decided to take to cyberspace was to raise awareness of what they do, letting people know what has been going on in their area when they hear the chopper overhead as it polices the skies above the South Wales Police and Gwent Police areas
"We decided to start using Twitter for a number of reasons, particularly because we were trying to engage more with the public," said Insp Smart.
"Another reason was that it was a way to cut down on the number of complaints about noise. We are often out in the early morning so it's a way of explaining to people where we have been and what we were doing.
"That has already worked for us as we've only had one complaint since February, which is a big difference to previous years. People are less likely to complain when they know we have been out saving someone's life or stopping a crime being committed."
Since it started, Helicops has tweeted over 2,300 times, recording every time the helicopter is used. All jobs are detailed online, Insp Smart said, unless one is aborted before it really starts.
As mobile phones are banned in the helicopter, the crew tweet about their jobs after returning to base.
Missing people
For keen followers, it is clear that life for the helicopter crew is not as dramatic as might be imagined. In fact, it would appear a large amount of jobs they are sent on are to try to find missing people.
But Insp Smart said it should reassure the public to see that the police are not constantly tracking down armed robbers or fleeing killers.
"The helicopter is very effective at finding missing people as it has thermal image cameras that can see at very long range. So we are used a lot for that - I think we've had 300-plus call-outs for missing people since February," he said.
"In recent years it's a reality that crime has come down. I've been a police officer for 23-24 years and the police force is far more effective these days. It's good for people to be aware of that."
But it's not all a search for missing people and a quick glance through Helicops' tweets shows the variety of roles it now undertakes.
"It's not like the old days when we would go after people stealing cars all the time. We do, but we now do a lot, lot more," said Insp Smart.
Rescues
"We take pictures of collision scenes and search for people involved in criminality. We also help in rescues.
"For example, we recently got involved in a rescue in Southerndown [in the Vale of Glamorgan] where a man got cut off by the tide.
"We carry devices like lifebuoys that we could throw to him. We then co-ordinated the rescue attempt , talking to others like the coastguard and emergency services."
For the team, one of the most rewarding aspects of using Twitter is feedback and support from the public.
"We get people messaging us quite a lot, which we reply to. It's a way for us to talk to the public and explain things about the aircraft or talk about other things," added Insp Smart.
"We get a lot of messages of support and thanking us if we've helped in an area where a follower lives. That's great for the team as we realise we're making a difference."