Ex-inspector Geraint Lloyd Evans admits sex charge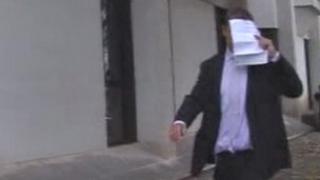 A former South Wales Police inspector has admitted conspiracy to encourage others to sexually assault a child under 13.
Swansea Crown Court heard Geraint Lloyd Evans, 47, from Coychurch, near Bridgend, took part in internet chatroom discussions about abuse.
He will be sentenced with three other men next month.
South Wales Police said Evans was in a position of great trust and that had been breached.
Police found Keith Bold, formerly from Neath Abbey, had been discussing abuse with others, including Lloyd Evans.
Bold is serving a 28-month sentence for having over 6,000 images and 181 movie clips of child abuse on his computer.
In one exchange between him and Lloyd Evans there was talk of meeting up in a friend's house in Caerphilly.
'Fantasy chats'
The jury heard how Keith Bold wrote "wish we had some young to play with" to which Lloyd Evans replied "could be an option" and that he had "pervy mates who could oblige" if Bold could prove he was genuine.
On another occasion both men discussed committing a sex act with a female child.
A similar discussion took place between Bold and another defendant, Leslie Asser, with Bold claiming to have committed such an act.
He later denied this to police as "bravado to make himself feel better" and said he would have "fantasy chats" about things he would like to do with children in order to "gain credence with them and boost his ego".
The prosecution said it was not necessary to prove a child had actually been abused, as this case was about the encouragement to do so.
Bold, 47, was found guilty of encouraging others to sexually assault a child under 13.
Asser, from Ross-on-Wye, and Wayne Barnes, from Neath, had already admitted encouraging others to commit sexual assault on a child under 13.
Suspended and dismissed
Lloyd Evans pleaded guilty on Tuesday although reporting restrictions meant that could not be reported earlier.
They will be sentenced in November.
South Wales Police said Lloyd Evans was suspended from duty in January 2011 and dismissed in September following a standards and anti-corruption investigation managed by the Independent Police Complaints Commission.
Assistant Chief Constable Nick Croft said: "Evans was in a position of great trust within the community he served, but that trust was breached by this criminal behaviour.
"His actions are completely unacceptable and abhorrent. His colleagues feel let down, and I am sure that local communities will feel the same way."