Rugby star Gareth Thomas 'Welsh communicator of year'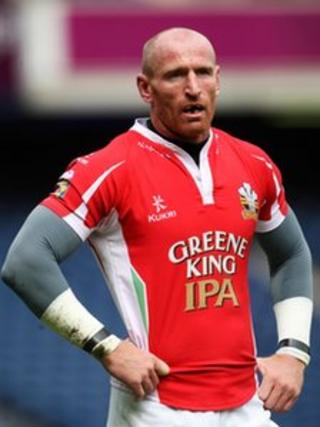 Newly-retired rugby star Gareth Thomas has been named Wales Communicator of the Year.
The ex-Wales captain was honoured by the Chartered Institute of Public Relations in Wales (CIPR).
The first professional rugby player to come out as gay, Thomas was chosen for his "courage, clarity and conviction" of communication, said the group.
"I feel that by being open about my sexuality it has given other people the chance to do the same," said Thomas.
"I am absolutely delighted to receive this award. It is a great honour for me."
Thomas, 37, who announced his retirement from both codes of the game this week, received the accolade ahead of Friday evening's PRide Awards in Cardiff, to be attended by more than 200 communications professionals.
CIPR member Huw Roberts presented the Award to him at his home in London on Thursday.
Val Bodden, CIPR Cymru Wales chair, said of Thomas: "His openness and honesty about his sexuality has also proved he can communicate with great sincerity and dignity.
"We wish him well with his future."
Thomas, nicknamed Alfie, has yet to reveal publicly what he plans to do next.
Public profile
But the boss of a London sports and athlete management business working with Craig Bellamy, Ieuan Evans and Scott Quinnell, among others, reckons Thomas's skills as a team captain would be an asset to business.
Rebecca Hopkins, managing director of ENS, says: "Gareth commands huge levels of respect in sport, in Wales and amongst anyone who is sympathetic to gay rights. Those options alone create a wealth of opportunities.
"I think Gareth's leadership skills sometimes get forgotten, not only was he a successful Welsh skipper, he galvanized a British and Irish Lions team too, those sorts of skills would be an asset to any business."
The dual-code player made his rugby union Test debut against Japan in 1995 and went on to captain Wales to their first Grand Slam in 27 years in 2005, earning 100 caps.
Ms Hopkins advises against commercial options that "rely on you being in the room", adding "if you go down the after-dinner speaker or media punditry route, if you are ill you don't get paid".
He has already done a lot of work as a radio and TV rugby commentator, having acted as pundit in New Zealand during the Rugby World Cup.
"I think he should do it if he enjoys it but fit it around other work; it is worth bearing in mind that if you can keep your public profile raised and positive, the more types of media work you will get," she said.
Western Mail rugby writer Delme Parfitt, who helped Gareth Thomas with his autobiography in 2007, expects him to remain in the spotlight.
Hero of the Year
He suggests Thomas may pop up on TV shows such as in the jungle on I'm a Celebrity or follow rugby star Gavin Henson and Welsh footballer Robbie Savage in Strictly Come Dancing.
"Perhaps he has got something in media on the horizon we don't know about," Mr Parfitt told BBC Radio Wales.
"I wouldn't be surprised if going into the jungle or something like that was on the horizon rather than another season in rugby," he said.
But Ms Hopkins warns: "These shows can raise your profile - and 'raise' doesn't always mean 'help' - but it will take it in a certain direction."
Thomas was a judge for this year's Independent on Sunday's Pink List, a guide to the UK's most influential gay people, which was announced last weekend.
He was voted number one in last year's list which this year features a new entry, Welsh rugby referee Nigel Owens who was also on the field during the Rugby World Cup.
Thomas also became Hero of the Year 2010 for Stonewall, the charity supporting the gay, lesbian and bisexual community, after announcing publicly that he was gay in December 2009.
Ms Hopkins said: "Undoubtedly his decision to come out was immensely brave and for that he deserves enormous respect.
"Going forward he probably needs to decide the extent to which being openly gay defines his public profile and career."