Cardiff research finds half of workers are ill-treated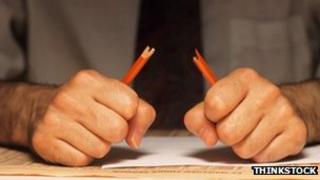 New research led by a team from Cardiff University has found that half of British workers have been ill-treated in the last two years.
The survey found 4.9% of workers were victims of violence while 22.3% said they were treated in a disrespectful or rude way. 27% said they felt ignored.
The study used data from face-to-face interviews with 3,979 workers.
The report for the Economic and Social Research Council (ESRC) will be presented at a London conference.
The report; "Insight into ill-treatment in the workplace: patterns, causes and solutions", has been written by academics from Cardiff University's School of Social Sciences and Prof Duncan Lewis at the University of Plymouth Business School.
It is based on data from the British Workplace Behaviour Survey, gathered in 2008 from interviews by the market research company TNS Global.
The team also looked in depth at four large employers, using them as case studies.
Long-term health problems
Workers in the public sector were reported to be "particularly at risk" of rudeness, disrespect, violence and injury.
Most attackers involved in violent incidents were said to be from outside the workplace, with 72% of assailants being customers, clients or members of the public. Workers in health, social work, education, public administration and defence faced the highest risk.
Staff in the private sector were more likely to suffer assaults by colleagues.
Disabled employees, those with long-term health problems and younger staff are all more likely to experience ill treatment at work, as were lesbian, gay and bisexual workers.
'Impossible workloads'
The survey found that permanent staff with managerial responsibilities are more likely to experience what was described as "unreasonable treatment" and violence in the workplace.
The report claims around 7,000,000 to 8,000,000 British workers suffer from "impossible workloads" and "not being listened to". Managers and supervisors were blamed for two-thirds of incidents of unreasonable behaviour but could also be victims of the same treatment.
Prof Ralph Fevre of Cardiff University, one of the report's authors, said: "Sadly, our study shows that violence, ill-treatment and unreasonable behaviour are all too common in Britain's workplaces".
"Standard employment policies, like workplace behaviour statements and "one size fits all" dispute procedures, are plainly failing," said professor Fevre.
"Many managers saw staff welfare as low on their list of priorities, while some even felt ill-treatment of staff was expected of them," he continued.
'Ill-treatment'
"We suggest that managers need to have standards of good treatment and civility built in as an essential part of their roles," said the professor.
Prof Lewis from Plymouth University added: "Contrary to received wisdom, our report reveals that it is not always the weakest employees who are on the receiving end of ill-treatment".
"Permanent staff with managerial responsibilities are more likely to experience both unreasonable treatment and workplace violence".
The report also concludes that the effective management of sickness and absence policies in the workplace can play an important part in reducing the ill-treatment of staff.
The report was funded by the ESRC with support from the Advisory, Conciliation and Arbitration Service (Acas) and the Equality and Human Rights Commission.
The findings will be presented at a seminar hosted by the ESRC as part of the Festival of Social Science in London.