Ambulance service reaching emergency response times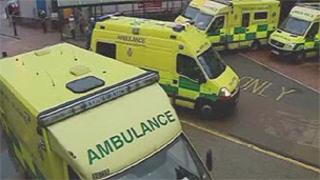 The Welsh ambulance service has hit its emergency response time target for the eighth month in a row, despite a slight dip in performance.
Latest figures show the service received more than 29,000 calls in September - 3% fewer than the previous month, but 6% more than September 2010.
Powys was the only county where the service missed its target.
The service said it was working with staff, the Welsh government and the rest of the NHS to improve performance.
The latest figures show:
More than 7,600 (69.3%) responses to immediately life-threatening calls arrived at the scene within eight minutes, above the national target of 65% for the eighth successive month.
That figure is down from 71.2% in July and August.
Performance in September ranged from 78.7% in Swansea to 58.9% in Powys.
Powys was the only one of the 22 local authority areas below 60%.
The service has largely met its all-Wales target of 65% since early 2009, apart from the traditionally-busy winter periods.
A spokesman for the Welsh Ambulance Service NHS Trust said: "While we have improved our performance in most local authority areas, we are conscious of the performance variation across Wales."
The spokesman said they would continue to work with staff, the Welsh government and other NHS partners to deliver its improvement programme and ensure all areas across Wales "receive a consistent and high-quality service."
The Welsh government said the use of first responders - volunteers who give first aid and are trained to use emergency equipment - had helped improve times in Powys.
A spokesman said: "Special consideration should be given to the challenges faced in providing emergency ambulance services across this large rural area, where it is extremely difficult to accurately predict the locus of demand.
"The trust has robust plans in place to improve response times in the Powys area."