'Waterless' engine coolant firm Hydratech creates jobs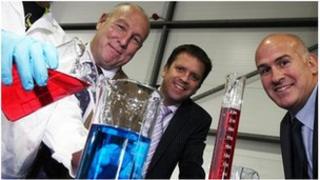 A Swansea company says a new "waterless" engine cooling technology it is pioneering will drive the firm's expansion and create up to 45 new jobs.
Hydratech has worked with US business Evans Cooling Systems to launch a liquid formula that can replace the combination of water and anti-freeze.
The firm claims the products will eliminate overheating, reduce corrosion and are also less toxic.
The technology is being trialled with 10 haulage companies.
Hydratech, which has received a £500,000 investment to back the venture, is looking to expand its Fforestfach factory over three years with turnover increasing to £7.5m ($12m).
'Boiling point'
The technology is being tested in 10 haulage fleets belonging to companies in Wales and other parts of the UK.
The proprietary coolant formula has a boiling point of 180C (356F), much higher than water and the company says the products are suitable for a wide variety of automotive engines.
Managing director of Hydratech, Steve Hickson, said water has its limitations.
"It has a relatively low boiling point and a propensity to corrode. Traditional anti-freeze is a risk to humans and animals," he said.
"These coolants have a much higher boiling point which prevents pressure build up and overheating. They eliminate rusting and galvanic corrosion, and improve engine performance and efficiency, and they pose no threat to living things."
The formula was developed by Evans Cooling Systems in Connecticut. Hydratech began working with the US firm on the products four years ago.
The deal has been supported with the investment from UK Steel Enterprise, a subsidiary of Tata, with business support from a Cardiff Company, Advantage Accountancy.