Knuckle dusters among items seized at Welsh assembly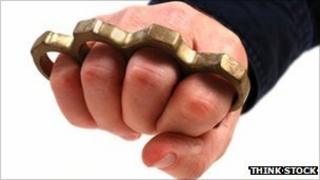 Knuckle dusters, CS gas and a bullet are among items confiscated from visitors to the Welsh assembly.
Information obtained by BBC Wales also shows knives and a scalpel were seized by South Wales Police officers between April 2009 and October 2011.
The assembly has its own in-house security team bolstered by a police unit at Cardiff Bay.
Politicians have praised the work they do but the assembly said it did not comment on security issues.
BBC Radio Wales obtained the list of confiscated items following a request made under the Freedom of Information Act.
In a statement South Wales Police said: "The National Assembly for Wales Police Unit is based in Cardiff Bay, bolstering the service of the in-house National Assembly for Wales security team.
"The unit liaises with the team to coordinate security arrangements, whilst managing investigations and delivering advice and training packages."
The Conservatives have called for clarification about the circumstances which led to these items being confiscated, and an explanation as to what happened next.
Conservative group chairman Nick Ramsay said: "Police and security officers do an excellent and essential job at the assembly.
"It's quite clear that some of the items listed will raise a few eyebrows and clarification is needed on the circumstances involved and the next steps taken following confiscation."
Professor Anthony Glees, director of the Centre for Security and Intelligence Studies at Buckingham University, said visitors to government buildings were routinely searched for suspicious items.
Terrorist threat
"Scanning and metal detectors, and X-ray devices looking into people's bags, should ensure that dangerous items and items which could be used for terrorist attacks don't get into the parliamentary space," he said.
"Security is very tight, in particular of course because of the terrorist threat. And although the threat from terrorism has gone down a notch, nevertheless the threat level is still very high."
Welsh Liberal Democrat leader Kirsty Williams said: "Looking at this list reminds us of the vital job South Wales Police and the security staff do here.
"They work around the clock to ensure that members and staff can carry out their jobs safely and securely."
A Plaid Cymru spokesperson said: "Plaid Cymru is appreciative of the work of the police in the assembly and in our communities.
"This is an example of the police's work affecting directly on the National Assembly for Wales, by protecting our national parliament, those who work there and its visitors."
A spokesman for the Labour group said they were "extremely thankful" there were such efficient security staff.
"It is worrying to see the plethora of weapons that have been confiscated but given the amount of people that pass through security every day, I think it is safe to say these are isolated incidents," he added.
'Needs context'
Essex Havard, who had a Swiss penknife taken off him when he went to the assembly's Crickhowell House building, adjoining the Senedd in the bay, said it was important to put the list of items into context.
"I had gone into work in my jeans not expecting to go to any meetings, but I was called to go to the assembly to take some items to my colleagues who had a meeting there," the 45-year-old from Cardiff said.
"Coming from a west Wales family, carrying a penknife is almost obligatory for things like walking and cutting branches. I don't want to lose mine so I keep it on a chain on my belt.
"As I walked into the assembly building, I suddenly realised it was there so told the security staff straight away.
"They took it from me and gave me a receipt. When I left, they gave it back to me.
"So the list [of confiscated items] needs that context. I'm one of these statistics and all I did was walk in with a penknife and hand it over and apologise as soon as I realised.
"I doubt many people go to a metal detector thinking they'll get something past it. It would be different if someone ran towards security brandishing a knife."