Closure plans in Caerphilly council schools shake-up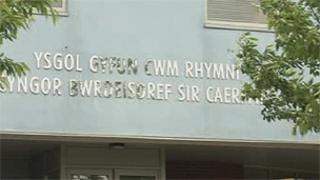 Three secondary schools are threatened with closure in Caerphilly county to help reduce the number of surplus places.
Caerphilly council wants to reduce the number of English-medium secondary schools from 13 to 10.
It says there are currently more than 2,000 surplus places which will rise to almost 4,000 by 2020.
But a new school is proposed to address an increasing demand for Welsh-medium education.
A report by the director of education suggests closing three English-language schools - but does not name them - at a cost of £60m.
It is estimated the plan would remove 2,900 surplus places.
"In contrast to the secondary Welsh-medium increasing demand, the English-medium secondary pupil numbers are projected to fall from 10,981 (2010) to 9,317 (2020), an overall reduction of 1,664 pupils," the report says.
"There are 2,271 surplus places presently in English-medium secondary schools, which gradually increase to a projected level of 3,935 by 2020.
"Three English-medium secondary schools have more than 25% surplus places presently. This number increases to 10 by 2020."
Surplus places would also be removed from other school sites by other means such as removing redundant buildings and reconstruction work.
Get to grips
Caerphilly council says the cost of its 25-year maintenance backlog for 12 of its secondary schools is over £57m, ranging from £1.7m to £9.2m for individual schools.
Its plans also include a new £40m Welsh-medium secondary school which would be built on the former St Ilan school site.
The school would share a single governing body with the existing Welsh-medium school Ysgol Gyfun Cwm Rhymni.
The cost would be shared between the council and match funding from the Welsh Government.
The proposals, part of the Welsh Government's 21st Century schools programme, will be discussed at a council meeting on Thursday and, if agreed, will be submitted to the Welsh Government by 18 November.
The Welsh Government has recommended that the national target for surplus places be set at a maximum of 10%.
Councils across the country are attempting to get to grips with the issue, resulting in many proposed school closures.