Save the Children warning on Wales child poverty target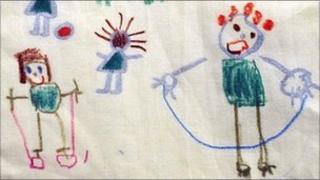 A children's charity has warned that the Welsh government could miss its own target of eradicating child poverty by 2020.
Recent figures showed one in three children in Wales lived in poverty and numbers were rising.
Save the Children told a conference in Cardiff the situation was a national disgrace.
The Welsh government said it was already bringing in new measures to tackle the problem.
James Pritchard, head of Save the Children in Wales, said child poverty was worse in Wales than any other country in the UK.
"Politicians promised in 1999 that they would defeat child poverty by 2020. We've been told that it's unlikely we will hit those targets," he said.
"We think that should not be used as an excuse for not trying, for not working towards it.
"We're asking our politicians to tell us how do you intend to hit that target, promise you will hit that target and make a difference for children in Wales."
Save the Children says 90,000 (14%) children in Wales live in severe poverty, the highest proportion in the UK.
The charity defines severe child poverty as where a child is living in a house with an income below the UK median, or middle.
Mr Pritchard said the reality of this was that children were going to bed hungry in harsh conditions.
"It means having a life that is effectively stunted. It means having a life where opportunity is denied to you, opportunities that other children get," he said.
"It means going to bed at night hungry and a bedroom that is cold. It means not being able to study properly, it means not having health outcomes which match other people.
Public spending cuts
"It means having a life which effectively is less than it should be, and it is a disgrace that we allow that to happen to our children, to a whole generation of young people growing up in Wales today."
Both the UK and Welsh governments have pledged to eradicate all child poverty by 2020.
The Welsh government has said it would do everything to meet the goal despite the impact of the economic situation and public spending cuts.
Gwenda Thomas, the deputy minister for children, said: "We are committed to working right across the Welsh Government to take positive steps on this.
"We know that Wales is the first country in the UK to legislate for child poverty and we know that in law now we have those responsibilities, as have other public bodies."
She said the Welsh government would also be using its new greater law-making powers to make a difference.
"We're facing difficult circumstances. There are some outside of our control such as the tax system and the benefit system, but we do have ways in Wales now with our new laws to take things forward," she said.
"I will be introducing a social services bill and that will be a bill for all people. We will be looking within that how we set up a legal framework that will set a clear way forward for Wales and use our new powers in the most effective way."
She added: "We've got to be positive about that [eradicating child poverty by 2020]. It's going to be difficult and it wouldn't be realistic for me to say otherwise."