Nanny's suspended jail term for Goodwood heiress fraud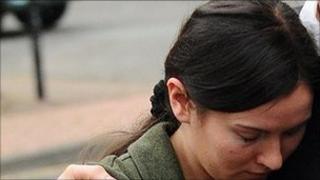 A nanny who stole more than £6,000 from her aristocratic employers has been given a suspended prison sentence.
Beatrice Dalton was found guilty of fraud after stealing from the account of Lady Louisa Collings and her husband at Presteigne, Powys.
Merthyr Crown Court heard Dalton, of Penarth, Vale of Glamorgan, "hated being poor".
She was also told to pay £8,300 compensation and costs, and do 250 hours of unpaid work.
The £7-an-hour nanny had insisted that she had only ever taken cash which she was already owed.
The 25-year-old had been employed to look after the four children of Lady Louisa, heiress to the Goodwood estate in west Sussex. and her businessman husband Ben at their country home in mid Wales.
Embarrassed
The court was told Dalton was treated as one of the family and given a second-hand Peugeot car in gratitude for her loyal service.
But the couple called in the police after discovering more than £12,000 missing from their private accounts.
Their nanny admitted to "hating being poor" and felt embarrassed by the gift, so she stopped claiming her weekly wage in a bid to pay for it herself, the court heard.
But when she found she could not live without an income she claimed she began helping herself to cash she calculated was "owed" to her.
Dalton had faced six separate charges for fraud, amounting to more than £12,000, covering a period between April 2009 and 2010.
'Disgraceful way'
She was cleared of five counts.
But she was found guilty of the most serious charge of using a Barclaycard to dishonestly withdraw £6,600.
Judge Richard Twomlow said Dalton had abused the trust of the Collings family in "a cynical and disgraceful way".
He said the offence was so serious that a 12 month jail term was justified but opted to suspend her sentence for a year.
"While the Collings family had no financial problems, their day to day financial management was not particularly organised," he added.
"They regarded you not as employer but more as a friend and they rewarded you by buying a car.
'Callous disregard'
"It's difficult to see how they could have treated you any better. Your actions were motivated by greed.
"The seriousness of this offence was not the amount that you took, but the way in which you breached their trust."
Judge Twomlow also said Dalton, who pleaded her innocence throughout her trial, had showed a "callous disregard for the truth".
Dalton left Merthyr Crown Court in tears.
Barrister, Simon Phillips, told the court she would pay the compensation and costs within the next three months.