Welsh NHS pays £700k to managers who lost posts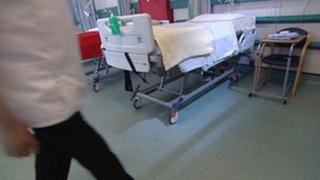 The NHS in Wales is spending £700,000 a year paying managers whose posts were scrapped during a shake-up of the health service in 2009.
Figures obtained by BBC Radio Cymru show about 120 people who lost their posts were redeployed, some on the same salaries they had before.
There are claims it will cause resentment among frontline staff.
The Welsh government said it was reviewing the situation with the health boards and unions.
During the reorganisation of the NHS in Wales in 2009 seven NHS trusts and 22 local health boards were reduced to seven integrated health boards covering the whole of Wales.
The aim was to cut bureaucracy in the system.
But current affairs programme Manylu, using Freedom of Information request, found about 120 managers who lost their jobs were kept on and had their salaries protected.
Figures from all seven local health boards in Wales show that at least 52 managers on pay protection are earning over £40,000 a year, 40 are earning over £50,000 and 24 over £80,000.
The total cost of pay protection to the NHS in Wales is around £700,000 a year.
Plaid Cymru AM Llŷr Huws Gruffydd said it was unacceptable and the government should investigate.
He said: "It's quite frightening that the health service in Wales is facing severe cuts and job losses among lower paid grades and yet we see over £500,000 a year still spent on protecting managerial pay for people who effectively lost their jobs.
Increasing pressure
"I think the minister really needs to look at this."
A spokesman for the Welsh government said that protected pay under the organisational change policy was one of the issues agreed between the NHS and the unions before the 2009 Welsh NHS reforms.
It said the policy was being reviewed by the Welsh Partnership Forum, which includes representatives from the Welsh government, the NHS and the unions.
But frontline health workers who say they are working under increasing pressure have called on the health minister to review the pay protection policy.
Marcus Longley, director of the Welsh Institute for Health and Social Care at the University of Glamorgan, said protecting managers' pay was likely to lead to resentment.
"There are around 100 people in the health service in Wales taking a salary for a job they're not currently doing," he tells the programme.
"This is worrying. There is the issue of cash but there is also an effect on morale and the feeling that people are doing jobs for which they are overpaid and this can breed resentment."
Manylu is on Monday 7 November on BBC Radio Cymru at 18:00 GMT.