Rise in junior and senior parks football violence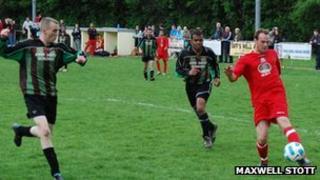 Football officials say they are worried about a rise in bad behaviour of players and spectators in parks junior and senior football this season.
This month alone punishments of between four matches and year-long bans have been handed out by the South Wales football association (SWFA).
Those are for misconduct charges, which are more serious than sendings off.
Elsewhere, police in Swansea are investigating an alleged assault on a player during a match.
"The discipline, especially in junior football is getting worse," said John Phillips, secretary of the SWFA.
"If we knew what the reason was, then we could deal with it better.
"It's all varied. The majority [of problems] are coming from spectators.
"There's certainly a lot more disciplinary reports [misconduct charges] coming in."
Mr Phillips said the behaviour of professional footballers does not help the cause but has vowed to clamp down on the problems.
He added: "In senior football we are getting a lot of problems. Our discipline at matches this season is worse than what it was last year.
"I hope giving people long suspensions gives them the opportunity to reflect on the situation.
'Eradicate'
"Play the game in the way it's meant to be played and accept the referees' decisions."
The SWFA, which covers leagues as far west as Neath Port Talbot to Cardiff and in the valleys, has issued these punishments for this month alone:
One player has been banned for a year
Another player has been suspended for the rest of the season
Eighteen players have been banned for between four and 12 games with fines of up to £100.
Seven of those, including the year-long ban, play in Cardiff's 50-team Lazarou Sunday senior League.
Secretary Danny Gomes welcomed the punishments.
"The SWFA are doing their utmost to impose heavy fines on people who misbehave as well as larger suspensions for serious cases," he said.
"As far as this league is concerned, our committee will do the utmost to eradicate the violence that is creeping into the game."
Carol Hosking, secretary of Rhondda & district football league which has around 90 junior and senior teams, accepted there was a problem.
"I find it's more supporters than players especially in junior football," she said.
"If a boy gets fouled, the parents over react.
"But I find there's more aggression anyway. Definitely the supporters are more aggressive than the players.
'Serious assault'
"I don't know if we can do anything more than what we are doing.
"Last season a player bit another player - it's just astonishing."
In Swansea, which comes under the West Wales FA, police are appealing for witnesses over an alleged "serious assault" on another player.
It was said to have happened during Gowerton 2nds 3-2 win over Coopers Arms 2nds in a reserve Division Two match on Saturday, 5 November.
South Wales Police say a 24-year-old man has been arrested and released on police bail pending further inquiries.
Carl Shackley of the investigative support unit at Swansea central police station said: "This assault can only described as totally unprovoked, which has left a young man with serious facial injuries for which he has had to undergo hospital treatment.
"There were a number of spectators at the game many of whom would have witnessed the assault. I would urge these people to come forward."