Financial stress hitting homes in Wales, says PwC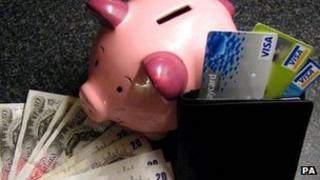 Wales and the north east of England have jointly suffered the greatest "household financial stress" since the start of the recession, analysts say.
PricewaterhouseCoopers (PwC) looked at indicators such as unemployment, house prices and earning growth.
It predicts 2012 will be a tough year for Wales with the rate of public sector job losses increasing.
The Welsh government says growth is its main priority and the UK government says the economy is still expanding.
PwC said Wales faced a big challenge to replace public sector jobs with good quality full-time private sector posts.
PwC's new UK Economic Outlook report said Wales was vulnerable to public sector cuts because it had a higher proportion of public sector workers than many parts of the UK.
Predicted losses
It also found unemployment had already increased in Wales by a higher rate than many other areas.
Last month the Wales Audit Office predicted up to 21,000 public sector jobs could be lost in Wales over four years.
That is on top of the 10,000 public sector jobs already cut.
PwC's chairman for Wales and the West, Rob Lewis, told BBC Radio Wales next year could prove particularly difficult.
"If you look at the trend so far there is an argument that suggests Wales has not fared quite so badly as other parts of the UK so far because the funding coming out of the UK government has not been turned off to the same extent."
He predicted that would gather pace next year.
Economic 'challenge'
"The impact is going to be quite significant as we roll forward during 2012," he added.
He said many public sector jobs that had already gone in the UK had been replaced by part-time private sector posts.
"That's a challenge the Welsh economy faces in particular," said Mr Lewis.
"To try to find good quality full-time jobs in the private sector to replace those that will inevitably be lost in the public sector.
"You can't ignore the fact that the public sector is relatively more dominant in the Welsh economy than it is in other parts of the UK."
A Welsh government spokesperson said: "Our number one priority is to promote economic growth and help create the jobs that will have a lasting impact on the economy".
"There is growing consensus amongst mainstream economic commentators who favour relaxing fiscal consolidation. This latest report by PwC adds weight to the criticism of the impact of the UK government spending cuts," the spokesperson continued.
'Dynamic companies'
"We believe we need both a strong private and public sector, but in many parts of Wales the private sector is not strong or dynamic enough. This government's goal is to create and attract more sustainable and dynamic companies, especially those headquartered in Wales".
The Welsh government spokesperson added that First Minister Carwyn Jones had met representatives from the private sector, trades unions and the voluntary sector on Wednesday to discuss the economy.
"While the levers for macro and fiscal measures are held in Westminster, we are committed to using every lever we possess to support jobs, create opportunities and generate business confidence in the Welsh economy," said the spokesperson.
The Welsh government said it would also be announcing a range of capital projects that could help the construction sector.
Recent figures showed that the UK economy grew by 0.1% between April and June, less than the 0.2% estimated previously.
A Treasury spokesperson reacted to those figures by saying: "While the UK cannot insulate itself from what is happening to our major trading partners, with financial turbulence in the eurozone and a weaker outlook for global growth, the economy is still growing and this week's survey data for the manufacturing and service sectors are consistent with continued expansion."