University Hospital of Wales: Tales from the early days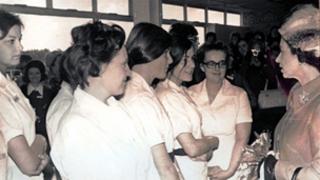 Philip John was a 24-year-old patient in dermatology when the Queen arrived to perform the official opening of the University Hospital of Wales in Cardiff.
On that day in 1971, his experience of the brand new hospital was "like going a five-star hotel" after previous treatment in the Victorian-era Cardiff Royal Infirmary (CRI).
"Everyone went out of their way to make us comfortable," said Mr John, of Rhoose, Vale of Glamorgan.
"It was more like a night out for the boys in some ways," he remembered.
"We had, dare I say it, flagons fetched in and everyone would have a sit down until the late hours of the night chatting.
"We'd have a visit from matron who would spend a minute or two talking with us, but there were never any complaints. We were well treated."
All the male patients fell in love with the nurses, according to Mr Jones, although it did not prevent some of them giving one of the staff a surprise dunking one morning.
"Some used to give us some grief if we were up late as they wouldn't get up in the mornings.
"I can remember one particular one. As soon as she came on shift, she would go around and make sure we were awake.
"A lot of the boys got so fed up with her they decided to get their own back on her and filled a bath of cold water one night.
"When she started in the morning, they picked her up, carried her into the bathroom and dumped her unceremoniously in the bath of cold water."
The incident was laughed off much to their relief, and the eventual meeting with the Queen passed without incident.
"It was a big day for everybody. Everything had to be tidied. They came in, went around, sort of nodded, said hello.
"I think the girls had the better visit with the Duke of Edinburgh down the other end."
A student nurse in 1971, Vanessa Jones was asked to help direct dignitaries around UHW during the Royal visit.
"We were in yellow uniforms, so were christened the daffodils for obvious reasons and had to wear red sashes across our uniforms.
"I was in the front of the hospital when the Duke of Edinburgh came past and in his usual cryptic humour turned to someone and asked if this was a Miss Wales competition."
Difficult transition
Ms Jones said it was fantastic to be on site as a student in a "brand spanking new" environment.
She remembered some staff found the transition from a smaller, more intimate site like the CRI to the sprawling UHW rather daunting.
"Down the infirmary we had a lot of old staff, people that knew you. It was like a big family.
"Many people were never that happy about coming to such a large hospital and certainly a lot of the portering, catering and housekeeping staff were used to that homely environment of CRI and found it quite difficult."
Her career remained bound up with the new hospital, returning there in 1981 as a clinical teacher before moving into the research unit, and she came to know the hospital inside out.
"My last job was in the research unit and we used to do a lot of work with patients with all sorts of wounds and always felt comfortable because I knew the place very well," she said.
"I've been involved in teaching since 1981. I think it has remained a good centre for teaching.
"The children areas have developed dramatically, and other specialities. So clinically it has always gone from strength to strength."