Anglesey pupils honour Land Rover creator Maurice Wilks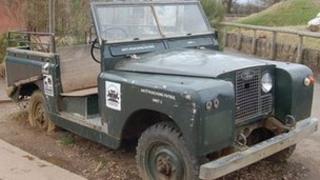 Pupils at a school on Anglesey have unveiled a memorial to the man who was inspired to create the Land Rover on island visits.
Maurice Wilks tested a prototype for what has become one of the world's most successful off-road utility vehicles in fields at Red Wharf Bay just across the road from Ysgol Dwyran.
That was in 1947 and The Queen, her uncle Edward VIII and Winston Churchill are just some of the two million people who became enthusiasts.
Yet Mr Wilks is not even acknowledged on his own gravestone in Newborough as the creator of the Land Rover.
Huw Thomas, head teacher at Ysgol Dwyran, said: "When I first became head I asked a local historian if anyone famous had come from around the school.
"He told me that there was someone who by rights ought to be famous, as the inventor of the Land Rover lived here, and tested the prototype in the fields across the road from the school.
"At that stage I'd never even heard of Maurice Wilks.
"When we did a little more digging we discovered that all there was to commemorate him was a tatty old laminated plastic sign, hanging around by some recycling bins.
"The pupils held a school council meeting, and took it upon themselves to contact Land Rover, design the plaque, and make sure that Maurice Wilks finally got the recognition he deserved."
Mass produced
Mr Wilks was born in Hampshire in 1904, and after spells designing with General Motors and Hillman, he spent World War II working on gas turbine engines for fighter planes.
After the war Mr Wilks was set to work on creating an inexpensive mass produced vehicle to bring in export revenue.
It was a problem he would mull over on weekends away at a farm he had bought on Anglesey.
"He operated an old wartime Willys Jeep at his home in Warwickshire and would drive it, with his boat, up to Anglesey," said Roger Crathorne, technical manager at Land Rover.
"But if you're running an old wartime Jeep, you need spare parts which were no longer available after the war."
As an inventive engineer Mr Wilks thought he could not only fix it himself, but could come up with a better vehicle for farmers, combining the qualities of a car with those of a tractor.
Military paint
So he drew a sketch of his ideal all-terrain vehicle in the sands of Red Wharf Bay, and the Land Rover was conceived.
Mr Crathorne added: "Then he got some old wartime Jeeps, put in a Rover engine and gearbox and drove it around.
"He realised their engine and gearbox suited a four wheel drive vehicle. Better still, the Land Rover had a four speed gear box, where the old Jeep had three."
The resultant prototype was capable of 60mph on the road, which was a more than respectable speed for a family car in 1947.
And despite the bad press some 4x4s receive now, the Series I Land Rover was the first truly green car, making use of recycled aluminium from scrapped war planes and even using up surplus military paint, giving the Land Rover the distinctive colour seen on early models.
From 50 pre-production vehicles launched at the 1948 Amsterdam Motor Show, over two million Land Rovers have now been sold.