University Hospital of Wales 'a leader 40 years on'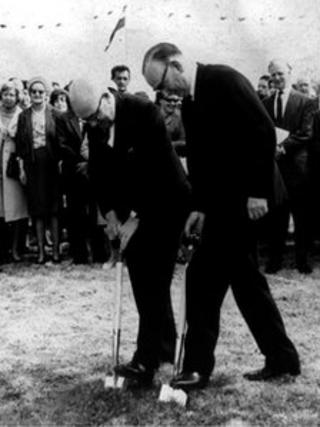 Four decades on, the University Hospital of Wales in Cardiff has maintained its original vision, says the son of one of its founding fathers.
Consultant paediatrician Dr Roger Verrier-Jones said UHW is the still the leader in medical training in Wales.
He also believes it is among the best in the UK.
It is a Leukaemia and Lymphoma Research Centre of Excellence and earned a reputation in dermatology, haematology and nephrology.
Dr Verrier-Jones' father, Alan Trevor Jones, was part of the team which helped make the hospital a reality.
Plans for the flagship teaching hospital were first revealed in 1951, but it was not until 20 years later that it finally opened.
Dr Verrier-Jones said: "It was one of the first hospitals to be built which was both a hospital and a medical school combined. In fact, it was originally going to be called the Medical Training Centre.
"Yes there was St Bartholomew's and Guy's hospitals but they had their medical school stuck on them. The Heath was the first because it was designed specifically as a teaching hospital."
Dr Verrier-Jones, who is now retired, began his career at UHW in 1971.
He said: "Over the years it's developed as the primary teaching hospital in Wales. Yes, there's a graduate training hospital in Swansea but UHW was - and still is - the main teaching hospital in Wales."
Dr Verrier-Jones believes the hospital will carry its legacy into the future.
He said: "UHW is as good and anywhere where in the UK. I think the concept originally envisaged for treating patients; teaching students and doctors has been upheld."
Dr Verrier-Jones said his father would be proud of the hospital 40 years on.
"I think he would be fascinated by its development because he was a visionary.
"I would expect the only thing he would not like is the parking," he added.