Aberystwyth Lens festival: Focus on street photography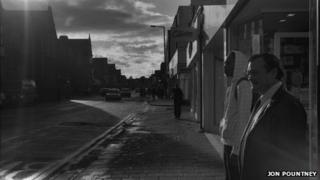 One of Wales' leading photographers says social media and the internet are changing the nature of his art.
Cardiff-based Jon Pountney says modern technology has made his work available to a bigger audience which is giving him an instant reaction.
He is one of five speakers addressing the Lens festival in Aberystwyth on the theme of street photography.
"The photos I think are amazing have almost been ignored," he said. "People like faces - they evoke nostalgia."
Human aspect
Mr Pountney, whose work includes a range of commercial and documentary photography, was inspired by a collection of photos he found while renovating a recording studio in the Gabalfa area of Cardiff.
"I took it over last year - I was in the process of chucking stuff out when I found all these prints and negatives," he said.
"I've discovered they were mostly taken in and around Splott in early 1982."
Mr Pountney says the photos - taken by Keith S Robertson - inspired him with their "vibrant, positive atmosphere".
He created a website - Cardiff Before Cardiff - and published the photos online with an appeal for information about the people in the pictures.
"The response has been amazing," he said. "Without social media and the internet it wouldn't have happened.
"It's taken it to such a bigger audience - ordinary people think art galleries and books aren't for them."
Mr Pountney added that reactions to his work via the website showed that the public were more interested in the human aspect of people's faces rather than artistic shots.
Urban traditions
The Lens 2011 festival, finishing on Saturday at the National Library of Wales, Aberystwyth, features a series of illustrated lectures by keynote speakers on the theme of street photography.
Historian Dr Paul O'Leary of Aberystwyth University focuses on the Victorian heyday of street processions, particularly in south Wales.
"I think it's one of the neglected aspects of urban life in Wales," he says.
"If we look from the 1840s until as late as the 1920s or 1930s people did use the streets on a regular basis for very large processions, celebrating all sorts of things.
"Whatever you did, open a library, open docks, people would have a procession.
"People would have a calendar - they would march on Christmas Day, Easter and particularly Whitsun."
Other speakers at the event include Scott Waby, head of digitisation at the National Library of Wales; conceptual artist Bedwyr Williams; and documentary photographer Tom Wood.