Bridgend plans 600 new homes in 'gateway' Waterton area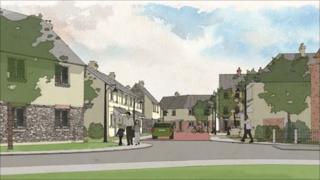 Plans to convert an industrial area of Bridgend into a "brighter, better" residential and business area with 600 homes are under discussion.
The new housing and associated facilities would be built in the Waterton area.
The South Wales Police rugby club and neighbouring council land would be used for the 66-acre development.
Bridgend has a population of about 40,000 according to recent official statistics.
A report on the project described Waterton as "under utilised or occupied by low-quality buildings in poor condition" and not in keeping with the site's strategic location as a "key gateway" to the town.
Councillors heard the proposal for Parc Afon Ewenni regeneration area, as the project is called, would see businesses, shops, recreation facilities and restaurants built in addition to housing.
The site is bounded by the River Ewenny, the A48 towards Cowbridge and the A473. A new roundabout off the A473 would be built for access.
The plan includes a green corridor with pedestrian and cycle links to the town centre and surrounding areas.
The next stage will be a public consultation.
'Under-utilised'
Nick Lanagan, chairman of SWP rugby club, said he understood the plans were still at a very early stage and had only heard of them himself a few days ago.
"The force has put out a message saying it's not likely to happen for five years at least," he said.
"If we no longer had a ground that would be very significant for us. We have been promised in the past [when similar schemes have been proposed] that we would have facilities provided.
"I'm assuming money from the sale would be used to provide for us."
Bridgend county's population has grown by 4.3% over the past decade to around 135,000, and is projected to grow by another 3% by 2021.
The town has expanded physically over the past decade with new housing developments at Broadlands to the west and Parc Derwen to the north.
Coun Phil While, cabinet member for communities, said of Waterton: "This area has traditionally been used for business and industrial purposes, but the masterplan document lays out ambitious proposals for transforming it into something brighter, better and more sustainable."
The plans come as the UK government announced proposals in England to allow buyers of new homes to borrow up to 95% of their value, with the government underwriting some of the risk to lenders.
Prime Minister David Cameron said it would help get "Britain building again".
A similar scheme for Wales is being considered.