Welsh farmers' concerns over EU's quad bike changes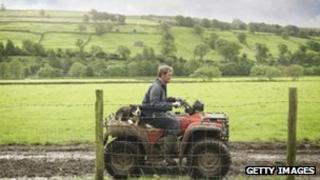 Plans to make quad bikes safer on the road could put farmers at risk on the land, claim Welsh farming leaders.
Manufacturers could be required to bring new quad bikes up to full road safety specifications under proposals by the European Commission.
But some Welsh farmers claim this would make the all-terrain vehicles (ATVs) unstable on steeper ground and more expensive.
The commission said ATVs should be safe when driven on public roads.
Farmers are calling on European Union leaders to make a distinction between quad bikes used for farming and road-going recreational versions.
The quad bike has been a regular feature of farms for a number of years.
Farmers, including Wales' many hill farmers, use them to haul feed and check livestock.
But the National Farmers' Union (NFU) in Wales said the planned safety improvements would make the bikes higher off the ground and less stable on steeper ground.
It said traction would also be lost through design changes to the back axle and the quads would be heavier with less powerful engines.
Eifion Davies, NFU Cymru's county chairman in Meirionnydd, said: "Safety is of paramount importance to us in the industry, but we believe the proposals to bring all new quads up to full road safety specifications will result in them being higher off the ground and make them less stable on steep ground.
"In effect, they will become less suitable for agricultural use and lead to a significant impact on farmers' choice of working vehicle."
Former president of the Farmers' Union of Wales Gareth Vaughan said moves to make quad bikes higher off the ground would make them unsafe in the fields.
"At the moment they are lower to the ground and farmers can transfer their weight easily when going up and down hill," said Mr Vaughan, who farms in Powys.
"We don't want smaller engines either because we need the power when towing trailers."
The Health and Safety Executive said two people died every year in incidents involving ATVs in Britain, but there have been no reported accidents in Wales during the last three years.
Two particularly high-profile quad bike accidents have made headlines and brought the dangers to wider public attention.
In 1998, comedian Rik Mayall suffered serious head injuries and spent five days in a coma after his quad bike overturned while he was riding it at his farm in Devon.
'Wide interpretation'
In 2003, rock musician Ozzy Osbourne spent eight days in a coma, broke eight ribs and punctured a lung while riding a quad bike in the grounds of his Buckinghamshire mansion.
The European Commission's proposals are intended to improve safety, market competition and reduce the complexity of existing rules governing motorbikes and quads.
A commission spokeswoman said: "There are safety concerns with quads when used on hard-paved, public roads and in addition environmental concerns were identified.
"This has caused a number of EU cities to ban these vehicles from traffic."
She added: "Proper technical classification can only be achieved by selecting objective, measurable criteria such as ground clearance and wheelbase and not by defining a vehicle's use which is subject to wide interpretation."
The European Parliament's agriculture committee is likely to vote on the proposals on 5 December. A full parliamentary vote is expected to take place next year.