Yodel delivery firm cuts 140 jobs at three Welsh depots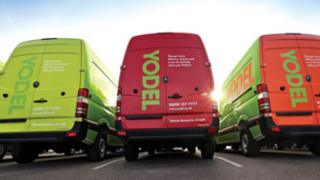 The delivery network Yodel has confirmed that 140 jobs are to go with the closure of three depots in Wales.
It is planning to shut bases in Cardiff, Anglesey and Carmarthenshire in the first half of 2012.
The company, formed in 2010 after Home Delivery Network bought the UK domestic business of rival courier DHL, says the acquisition resulted in a duplication of coverage in some areas.
Yodel depots in Aberystwyth, Llandudno, Llanelli and Nantgarw will remain open.
Most of the jobs will be lost with the closure of the company's base in Rumney, Cardiff, affecting 103 people.
Another 26 jobs will be lost at Capel Hendre, near Cross Hands, Carmarthenshire, and 11 at Gaerwen, Anglesey.
Single network
There will also be closures in England, Scotland and Northern Ireland, with 45 centres affected in total.
In October Yodel announced details of its plans to streamline operations into a single delivery network that would enable the company to operate profitably.
The company said the strategy was designed to meet "customer-driven demand for faster, more flexible delivery options and higher standards of convenience".
Yodel chief executive Jonathan Smith said: "This is not a decision we have taken lightly.
"We have to make these changes to meet the needs of our clients and their customers and create a sustainable and profitable business model.
"We have been running two operational networks since early 2010 with limited flexibility and have now concluded the planning to move to one operation."
The company said it was working closely with its staff to keep them informed of their options and to ensure a smooth transition.
In April 2010 Home Delivery Network announced the closure of its Wrexham depot with the loss of 68 jobs, shortly before announcing its rebranding as Yodel.