Andrew Paterson's funeral stopped for fingerprint check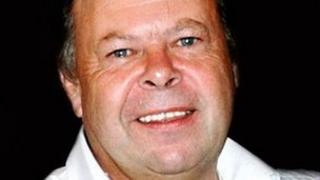 A funeral in Pembrokeshire had to be stopped because police received a tip-off the dead man was a fugitive who had been on the run for 24 years.
Andrew Paterson left the country after being accused of £17,000 fraud and had managed to evade police since 1987.
That was until his wife carried out his last wish, burying his body in the village where he grew up in Begelly.
Dyfed-Powys Police confirmed a criminal investigation never found him, saying that his death ended a long inquiry.
The man born Andrew Paterson had taken on a false identity, becoming Mark Atwood.
He then travelled the world setting up a number of successful holiday resorts.
Warrant
When he died at his home in Goa, India, his third wife carried out his last wishes, arranging for his body to be returned to his home in Wales and buried in the graveyard at St Mary's Church.
Police were alerted and allowed the service to go ahead but they stopped the burial so they could fingerprint the body, confirming his real identity.
The 58-year-old's body was eventually buried in a grave marked Andrew Paterson, also known as Mark Attwood.
A police spokesperson confirmed Andrew Paterson failed to attend Guildford Crown Court on October 13 in 1987 to answer conspiracy to defraud charges and that a warrant had been outstanding.
The spokesperson said officers were alerted by the Pembrokeshire coroner that the body of a man who died overseas was being repatriated to the UK for burial.
The person's identity was given as Mark Peter Frank Attwood and a "legitimate" passport was provided as identification.
"Due to some concerns as to the correct identity of the deceased, inquiries were carried out, which resulted in the deceased being positively identified via fingerprint comparison as being Andrew Edward Paterson," said the spokesperson.
Rev Sarah Geach, who conducted the service, said the committal took place at the graveside on Monday, at which just Mr Paterson's wife attended.
"In the midst of all this amazing story are three grieving families and my concern is a pastoral one for them," she said.