Pontllanfraith packaging firm fined for crush death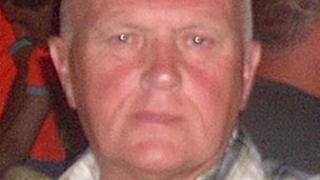 A packaging company in Caerphilly county has been fined £5,000 after a worker was killed by falling equipment in 2009.
Gareth Young, 60, was crushed by a half-tonne metal cabinet at the Moulded Paper Ltd plant at Pontllanfraith, near Blackwood.
The factory was operated by IMCO Ltd, which has since gone into liquidation.
IMCO was found guilty in its absence at Cardiff Crown Court of breaching safety laws.
Mr Young, a grandfather from Beaufort near Ebbw Vale, Blaenau Gwent, had been trying to remove sheet metal from the disused cabinet when it slid onto him on 4 August, 2009.
Despite the efforts of a specialist fire service team to rescue him, Mr Young suffered fatal injuries.
The Health and Safety Executive (HSE), which brought the prosecution, said its investigation revealed that the cabinet had been propped up against a wall and left unsecured by machinery removal men some months earlier.
The HSE argued that the company, IMCO, had failed to ensure the health and safety, and welfare of its employees, including Mr Young.
Now in liquidation, the firm was found guilty in its absence of breaching health and safety laws by Judge Christopher Llewellyn-Jones QC.
Death 'preventable'
IMCO was also ordered to pay costs of £36,971.
Speaking after the hearing, HSE inspector Trevor Hay said: "This was a tragic death that could so easily have been prevented.
"This fatality shows the importance of carrying out thorough risk assessments of the working environment, especially following any major changes.
"A competent risk assessment would have revealed the instability of the electrical control cabinet that fell on Mr Young and the need for it to be secured to prevent it from falling."