E. coli-hit Tir na n-Og nursery in Bangor to reopen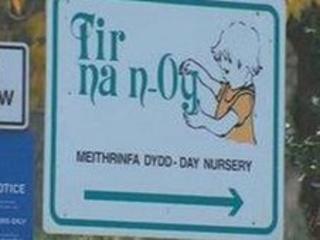 The nursery at the centre of an E. coli O157 outbreak in Bangor has been cleared to reopen next week.
The outbreak control team said on Friday no new cases had been reported, leaving the number affected at three.
Tir na n-Og nursery and a playgroup in Bethesda in Gwynedd which closed as a precaution will reopen on Monday.
Test results have also indicated that the outbreak is not connected with a case at Amlwch on Anglesey in October this year.
Dr Chris Whiteside, consultant in communicable disease control for Public Health Wales, said: "Staff have visited Tir na n-Og nursery and given advice on infection control issues.
"The Outbreak Control Team is satisfied that the nursery can re-open.
Symptom warning
He added: "It is important that all staff and children receive two negative sample results before they return to the nursery to ensure they do not pose any risk of infection to others.
"For this reason there may be a slight delay in a small number of children or staff being able to return to the nursery."
Dr Whiteside reminded parents that if their child had been unwell with diarrhoea they should not send them back to their nursery until their symptoms stop for two days.
E. coli O157 can cause diarrhoea, stomach cramps and fever.
The incubation period can range from one to 14 days, but is usually three to four days, and sufferers are usually ill for up to two weeks.