Most Welsh farmers 'to get single farm payment on time'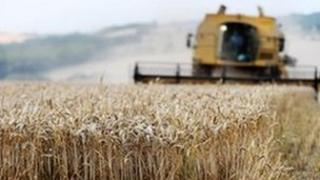 Nearly 90% of Welsh farmers have been told they will receive a large slice of their income on time on Thursday.
The Welsh government said more than 14,500 applications for the single farm payment had been processed and over £214m would be paid out.
Thursday is the first day of this round that farmers are allowed to receive the European Union grant.
It comes via the Common Agricultural Policy (CAP), but there are plans to change how it works.
CAP subsidises the industry and fixes prices and food production levels, but farmers are concerned proposals to alter it after 2013 could affect funding levels.
The single farm payment announcement was made on the opening day of the Royal Welsh Winter Fair near Builth Wells.
Under European Commission regulations the payments can be released to farmers between 1 December and June 30.
Deputy Minister for Agriculture Alun Davies said 88% of farmers would receive their payments at the earliest opportunity, with more than 90% getting them by the end of December.
Mr Davies said he was aiming to get "the best possible deal for Wales" in CAP negotiations.
Emyr Jones, president of the Farmers' Union of Wales, said: "For many farmers this payment is the difference between profit and loss."