CCTV of Spar store robbery suspects in Rumney, Cardiff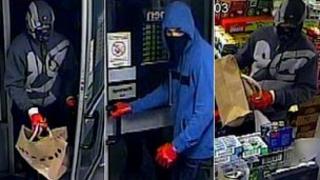 CCTV images have been released after a robbery at a convenience store in Cardiff on Sunday night.
Police have stepped up patrols in Rumney after two men demanded cash from staff at the Spar on Cae Glas Road at around 2145 GMT.
They emptied the till tray into a Tesco shopping bag and got away with £130 and some cigarettes. The pair ran off towards Llanstephan Road.
Detectives said it was "very traumatic" for shop workers.
Two men matching their description were seen entering Greenway Park shortly afterwards.
The first man had an Irish accent and wore a dark grey Ecko hooded top pulled tight. The hood had distinctive light grey swirls on it.
'Unusual'
He was also wearing red industrial gloves and a black bandana with grey squares, which covered his face from the bridge of his nose down.
The second suspect wore a sky-blue coloured hooded top with dark blue writing across the chest; dark blue jeans and black trainers with a white sole.
He was thin with dark coloured eyebrows.
Det Sgt Rob Cronick of Rumney CID said: "This is an unusual incident for this part of the city and it was a very traumatic experience for those involved.
"I would also like to reassure residents and businesses that we have stepped up patrols in the area."
South Wales Police has appealed for anyone with information to contact Det Sgt Cronick on 029 20774233 or Crimestoppers on 0800 555111.