Gary Speed's death: WRU to hold minute's silence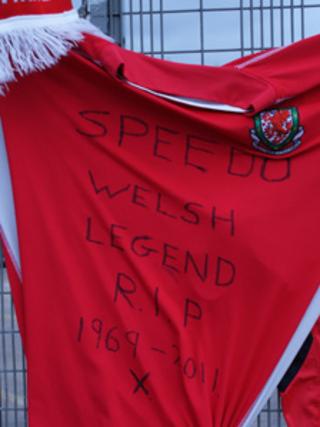 Welsh rugby will be paying tribute to Wales football manager Gary Speed with a minute's silence on Saturday.
The Welsh Rugby Union said it was "important for rugby to pay its respects to Gary Speed" and the Wales v Australia match was a "fitting opportunity".
Speed, 42, was found dead at his home on Sunday.
Meanwhile, Wrexham FC made tributes at their home match with Darlington on Wednesday night.
A WRU spokesman said of the tribute at the Millennium Stadium on Saturday: "Gary Speed was a talented sportsman, an excellent ambassador for soccer and a true gentleman.
"As Wales football manager he was achieving a level of success which was raising the Welsh international game to new levels.
"He represented values and a work ethic which had a resonance to the ambitions of everyone involved in rugby.
"We will all miss him and his memory will undoubtedly live on through his achievements.
"It is important for rugby to pay its respects to Gary Speed and the international on Saturday, which is the first for a Welsh team since his passing, is a fitting opportunity for that tribute to be paid."
Wrexham's players wore special T-shirts in tribute to Speed during their warm-up at Wednesday night's Blue Square Premier home match.
Speed was a familiar face at the Racecourse ground, and his son trained at the Conference club's centre of excellence.
Shirts have been left tied to the gate outside the stadium.
There was a minute's applause for Speed, who was born 13 miles from Wrexham in Mancotand a wreath was brought onto the pitch.
'Bread of Heaven'
A spokesperson for Wrexham FC said: "It was such a massive shock to everybody. As a club we knew him well because his son is at the centre of excellence.
"A lot of the players and staff knew him, and other parents - they knew him as a fellow parent, not as the manager of Wales. He was down here most Sundays.
"It's such a shame, and all our sympathies go to his family."
He was found hanged at his home in Cheshire. An inquest was opened and adjourned on Tuesday.
Clubs have been marking Speed's death at matches around the country.
Newcastle United, where Speed made 285 appearances for the club said its official match programme for Saturday's game against Chelsea will carry a picture of the midfielder on its front cover, with a four-page tribute inside.
Before the kick-off, the 52,000 capacity crowd will be led in singing the Welsh hymn 'Bread of Heaven', followed by a minute's applause.
Speed won 85 international caps for Wales.
"Whilst the hymn is sung, supporters in the East Stand will be asked to hold up black and white cards which will depict the number 11, the shirt number Gary wore while at United," added the club in a statement.
A book of condolence is also being opened for the Flintshire-born former Newcastle, Everton, Bolton and Leeds player.
The Professional Footballers' Association (PFA) says it will extend the circulation of a booklet on depression after the death of Gary Speed.
The PFA says the move has been prompted by "an outpouring of emotion" since Speed's death.
The pamphlet will now be sent to 50,000 former professional footballers.
While there has been no confirmation that Speed was suffering depression, the PFA chief executive Gordon Taylor said they have now decided to extend the circulation of the leaflet, which includes case studies.