RAF completes safety upgrade after Kenfig crash tragedy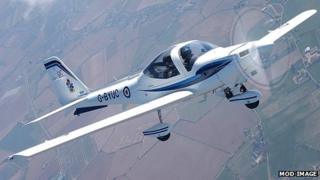 The RAF has completed a £2.8m safety upgrade to all its basic training aircraft, a key recommendation following a fatal mid-air crash over south Wales.
Two teenage air cadets and two pilots were killed in the accident above the Kenfig nature reserve in February 2009.
The MoD has now fitted collision avoidance (TAS) equipment to all 119 of its Grob Tutor light aircraft.
The RAF said new safety measures were completed well ahead of schedule.
Cousins Nikkita Marie Walters, 13, and Katie-Jo Davies, 14, were killed in the collision along with pilots Hylton Price, 63, and Flt Lt Andrew Marsh, who was 24.
A MoD service inquiry later found that Mr Price, a retired RAF wing commander, and Fl Lt Marsh did not see each other "until it was too late".
Two Tutor T1 aircraft took off from RAF St Athan in the Vale of Glamorgan for a routine air experience flight for teenage cadets.
The catastrophic collision happened at over 2,000ft above sea level less than 10 minutes later.
The inquiry panel made 29 recommendations in its report published in 2010. It concluded that a warning system "would make the single greatest contribution towards preventing collisions".
It also highlighted visibility as an issue in the single-engine Tutors and the importance of pilots maintaining a constant lookout for hazards.
It was thought the largely white paint scheme could have made the aircraft hard to see against the background of a bright sky.
The RAF had already changed many procedures to reduce the risk of Tutors flying too close together. Safety briefings were also improved.
Of the 29 recommendations, the RAF said 27 have now been dealt with and two are still ongoing.
Transponders
The company Babcock, which maintains the Grob Tutor fleet on behalf of the MoD, was asked to fit the collision warning system as a priority.
The device issues an alert if another aircraft with TAS flies too close.
The work was carried out at a hangar in Farnborough and has now been completed nine months before the upgrade was due to finish.
An RAF spokesperson said: "The safety of our aircrews and passengers is paramount. A Traffic Advisory System has been fitted to all Grob Tutor aircraft used by the military well ahead of schedule to enhance air safety."
The warning equipment now fitted in the Tutors is manufactured by US firm Avidyne and is based on the collision avoidance systems carried by civil airliners and cargo planes for many years.
Avidyne said its system actively detects other aircraft fitted with TAS electronics, using signals from transponders rather than radar.
It provides audible and visual warnings to pilots within a range of at least seven nautical miles (13km) although the system relies on both aircraft being fitted with the correct type of transponder.
The two-seat Grob Tutors were introduced in 1999 and are used by several university air squadrons in the UK as well as an elementary training aircraft for recruits in all three armed services.
Over several decades, tens of thousands of Air Training Corps cadets have safely enjoyed air experience flights in the Tutors and their predecessors, the Bulldog and the de Havilland Chipmunk.
The accident above Kenfig in 2009 devastated the UK aviation community. Both pilots had exemplary flying records and the young cadets Nikkita Marie Walters and Katie-Jo Davies were on their first flight.
A second fatal mid-air collision involving an RAF Tutor above Oxfordshire in June 2009 heightened safety concerns.
Another cadet, 15-year-old Nicholas Rice, and pilot Flt Lt Mike Blee, were killed when their Tutor collided with a glider.
A further inquiry made 18 recommendations to improve safety.
Following both accidents, the RAF has worked to implement the inquiry recommendations and fund the now completed safety upgrades.