NASUWT Cymru: Quiet revolution claim at Swansea meeting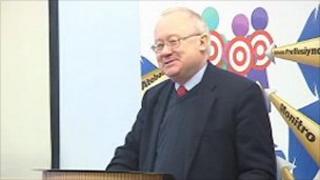 Welsh teaching union leaders claim "a quiet revolution" has started to help them take back control and improve standards in the classroom.
The NASUWT is holding its two-day Welsh annual conference in Swansea.
Among the issues are concerns about workload, job losses, pensions, and "excessive" lesson observation.
Education Minister Leighton Andrews addressed the conference on Sunday. The Welsh government said it has no desire to overburden teaching staff.
NASUWT Wales organiser Rex Phillips said: "With the mandate from the membership to make a stand on standards, it is to be hoped that there will be a meeting of minds."
'Stand up for standards'
Last month the union announced that members had voted for industrial action short of a strike starting from 1 December.
It follows the UK-wide day of action among public sector workers last Wednesday.
"This is the start of what we have described as the quiet revolution," said Mr Phillips.
Mr Andrews announced in his speech that he would be reviewing the child development assessment profile for those youngest pupils entering the foundation phase for early years education.
He said he had been talking with teachers' representatives and it had brought criticism, including for being too time consuming.
"We will make changes if necessary because we're committed to working with you to ensure the assessment profile meets our shared aims," he told the conference.
"It provides a solid basis for all children's future learning and developmental needs by helping practitioners identify those needs and it supports practitioners to develop the curriculum so they can plan and monitor pupils progress through the foundation phase."
The union afterwards welcomed the development, saying it would give teachers more time to get to know pupils joining the foundation phase without having to worry about assessment.
Referring to the new school banding system, Mr Andrews added: "There will be no return to league tables. The purpose of league tables is to judge schools, the purpose of banding is to support schools."
He also said the performance management system for the teaching profession was not intended to be a bureaucratic process.
A Welsh Government spokesperson said earlier: "We have no desire to overburden teaching staff in Wales but we believe teacher assessment is a key element in helping pupils to improve their learning.
"This is not about creating bureaucracy but driving up standards and providing the basis for high-quality teaching and for successful schools."
The spokesman said the Welsh government has protected education budgets and remains committed to an additional 1% funding for education.
NASUWT general secretary Chris Keates said: "It comes as no surprise that workload and job loss are at the top of the agenda for our members in Wales.
"Along with pensions, these issues were at the heart of our national ballot and the motions under debate are part of the ongoing NASUWT campaign to enable teachers to reclaim their classrooms and stand up for standards."
The UK government says that with people living longer, the cost of public sector pensions is rising and reforms are needed.