NHS reform needed or poor will suffer, warns Sir Mansel Aylward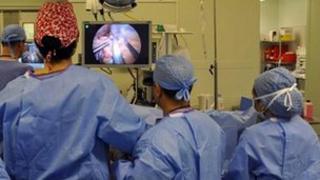 A senior adviser to the Welsh NHS has warned that without reform poorer people could be left in a "dark hole" with their health deteriorating.
Professor Sir Mansel Aylward, chair of Public Health Wales, said there could be a return to the days when poorer people died of treatable conditions.
But he said care had to be streamlined in the face of financial pressures.
"What we must do, we must do well - but we must avoid those people being left in a dark hole," he said.
Sir Mansel told The Politics Show on BBC Wales that he was "depressed and disappointed" at the limited progress of change the health service had achieved in the face of an ageing population and a growing list of conditions to be treated.
'Postcode lotteries'
He said cash shortages meant there was a need to centralise some specialist treatment, saying it would be "foolhardy" to try and treat every condition at every district general hospital.
"We're not going to get many more chances - in the past we had plenty of money and perhaps we spent it wrongly," he said.
"Now we've got no money and therefore that will perhaps force us to think a bit more about getting achievements to change, to have better quality, safer hospitals and more streamlined care."
Sir Mansel, who chaired a commission on Welsh NHS reforms, said he welcomed the Welsh government's commitment to change, warning of a return to pre-NHS inequalities if it didn't happen.
"When Aneurin Bevan first talked about the NHS in 1946-47 he was looking at a failed system, whereby you had postcode lotteries," he said, referring to the Labour health secretary who set up the NHS.
"Poor people couldn't be provided for, people were dying early, people were dying of diseases that could be cured, people weren't getting operations and dying of minor things.
"That panorama that was around postwar would be again.
"The richer would get better ... the poorer would get poorer and their health would deteriorate markedly.
"The NHS is about people who are poor, in need, in distress, who have expectations of a better service.
"What we must do, we must do well - but we must avoid those people being left in a dark hole."
Last week, it emerged health boards face a potential shortfall of nearly £50m, despite a warning from the Welsh government that they will not be bailed out.
Health minister Lesley Griffiths has said they were getting an extra £100m upfront to balance the books, but had to change the way services were delivered to make them more sustainable.