Web show Cardiff Born Cardiff Bred aims to show real city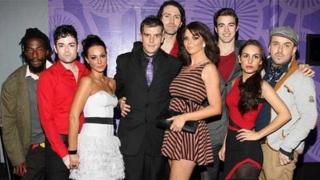 If a few more people in Cardiff wanted to get fit, a new reality programme showing on the internet might never have been made.
Sarah Jayne Farthing used a lull in her work as a personal trainer to teach herself photography, before making the step to filming.
The result was Cardiff Born Cardiff Bred, a six-part series of 30-minute episodes shown on YouTube and other internet sites which purports to depict real Cardiffians, rather than Botoxed party-goers beloved of certain other reality shows.
The genesis of the show was as simple as its creator being a bit bored and noticing the popularity of reality shows around the country, notably ITV's The Only Way Is Essex.
Ms Farthing, 25, from the Llanishen area of the city, has not let a lack of experience deter her. She said: "I've never done anything like that before.
"I do photography, usually photoshoots [one of which features in the first episode].
"I started teaching myself about nine months ago. I was doing personal training but it went quiet so I borrowed by boyfriend's camera and turned out to be quite good at it."
From there, the Cardiff University graduate decided it was time for her home city to have a slice of the reality TV boom.
Teaming up with some friends who had some filming experience, she set up a Facebook page in May asking for people to come along to auditions for the show, and ended up with over 1,000 hopefuls at the first round in Cardiff's Revolution bar.
They whittled down the numbers for a second round, and ended up with 14 cast members initially, some of whom have dropped by the wayside since.
She said of the casting process: "Other shows had boob jobs and Botox. I wanted people from council estates to those running their own businesses.
"There were only very few people who were up for something new and up for a challenge. It was quite difficult finding the right people."
'Both sides of the track'
The show is made with a "completely zero budget" as its creator explained: "There are three people doing the filming, and about 10 cast members.
"A lot of people were expecting it to be broadcast quality.
"A lot of the footage has to be redone or something goes wrong with the sound - we've learnt the hard way.
"A lot of things change or people have had to drop out, and we've had an additional cast member since it started. For me it is quite a lot of work."
The cast includes a pair of shop assistants, a youth worker and DJ and a teetotal, non-smoking practising Christian, among others.
Ms Farthing said that anybody at the auditions who came along with a "I'm a party animal, I'm out being wild all the time" spiel was instantly dismissed.
"We're not putting forward the usual stereotypes. People from Cardiff are usually either called chavs or delinquents and I just want to show both sides of the track," she said.
She did acknowledge, however, that 10 or so people could not cover all aspects of Cardiff.
"I think it's an accurate representation of the people in it. You can't say it represents the whole city," she admitted.
She is quite open about the fact that much of the show, like other reality programmes, is a filmed repeat of events that have happened, or are scenes staged for the cameras. But she said they where they happened, they were an honest representation what had gone on.
Her brother Philip, who features in the show, is the subject of one such event.
The series begins with him on the sofa being woken by a drink thrown over him by his mother as she tries to rouse him for a meeting with his probation officer.
He was released from prison last Christmas after serving time for fraud and has credited the show with turning his life around. He now hopes to set up his own video production company and has already had a few offers of other screen work, according to his sister.
She claims the show has had more than 30,000 views of the first four episodes.
It has received mixed reviews on the web, and Ms Farthing said she has not had any luck with broadcasters at present, but after a break over Christmas they intend to resume filming for a second series in the New Year, probably with some new faces in the mix.
She added: "It's something we really enjoy doing."