MP Guto Bebb angry at union 'strike now, pay later' call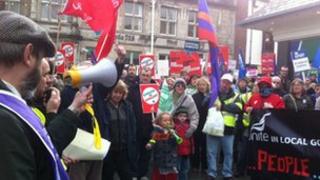 A Conservative MP has criticised unions for urging councils to delay deducting a day's pay from striking workers until after Christmas.
Aberconwy MP Guto Bebb claimed Gwynedd and Conwy councils had agreed to the "strike now, pay later" request.
He said it was a "scandal" to use taxpayers' money in this way.
Conwy council said its payroll system meant it had to make deductions in January, while Gwynedd said it would not comment until staff had been told.
Elsewhere, Anglesey council confirmed it had received a request from unions but had not made a decision.
A Gwynedd council spokesperson said: "Staff will be notified shortly of the arrangements for deducting pay from the salaries of those who took strike action on 30 November.
Accurate deductions
"It would not be appropriate to comment further until staff have been informed."
Mr Bebb claimed Gwynedd was planning to make the pay adjustments in February.
Conwy council said its executive team had looked at the issue, considered the "practicalities of the authority's payroll system" and decided to make deductions in January. 
A spokesperson said the council paid staff on the 15th of the month so there was not enough time to make accurate deductions in December.
Mr Bebb named Unison as one of the unions making the request to councils.
Unison said there was no central policy but officials may be making requests locally.
Childcare costs
Mr Bebb said: "This is a scandal. It is outrageous that the trade unions have asked this of local authorities with taxpayers effectively subsidising the strikes.
"It is providing a strike now, pay later option to striking workers.
"Many working parents either lost a day's pay or had to pay large sums of money for childcare costs due to teachers being on strike, thus being out of pocket in the period before Christmas."
He said "taxpayers' money is being used to cushion the financial cost to union members of taking industrial action".
Dominic MacAskill, Unison Wales pensions campaign lead officer, said: "Is this the first Scrooge story of the festive season?
"Guto Bebb's time would surely be better utilised in defending public sector workers, in his constituency, against the Westminster government's billion pound raid on their pensions, which is equivalent to a 3% tax increase for this group of workers."
He said most public sector employers would need to make special arrangements to deduct a day's pay from their staff's wages so it would not always occur immediately.
"As the workers' dispute is not with Welsh employers it is good to hear that some are being sensitive to the genuine hardships that their staff are facing and not rushing through these deductions before Christmas," said Mr MacAskill.
Service disruption
About 170,000 workers in Wales joined the one-day strike as part of UK-wide industrial action over pension changes.
The BBC has asked councils across Wales when they planned to deduct pay from striking workers.
Wrexham council said deductions would be made from the January payroll because this was the "earliest pay date that strike deductions could be made".
In Bridgend, the council also said pay adjustments would be made in January because it was unable to process all of the necessary information in time for the December pay date.
Pembrokeshire council, however, said it would be making deductions from December pay packets.
Rhondda Cynon Taf council said it had not received any union requests regarding strike pay and would be deducting it in due course. Due to the way in which its payroll systems work, the deduction would not be made before Christmas.
On Anglesey, the council said it had received a request from unions to defer deducting cash from strikers' pay until after Christmas but a decision had not yet been made.
Monmouthshire council said adjustments would be made in January because it was "not possible to gather the information and action it in time for December payroll deadline".
Powys council will also be deducting payments in January "as this is the earliest it could deduct due to the pay timetable".
Ceredigion council said it would not be possible to make all the deductions in December owing to the volume of work and the much earlier closure of the payroll system.
Torfaen council said once the absence was entered into its system, it automatically triggered the pay deduction - and this would take place in December.
Neath Port Talbot council said its policy was to make pay deductions for strike action at the earliest opportunity but this would not happen in December because it was not logistically possible with such a tight Christmas payroll deadline.