Demands for a crossing at Llanaelhaearn collision site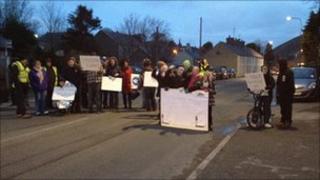 Parents and children have held a protest at the spot where a schoolboy was seriously injured in a collision with a car.
They want a crossing on the A499, which passes through Llanaelhaearn in Gwynedd.
Liam Jones, who was 12 at the time, suffered head injuries in the incident three years ago.
Gwynedd council said it was waiting for permission from a landowner before pressing ahead with the crossing.
Campaigners, including Liam's mother, Caryl, have demanded a crossing on the Caernarfon to Pwllheli road since the accident in November 2008.
The road was closed for half an hour this morning because of the protest, which was to highlight the issue.
Gwynedd council said it was dealing with the issue.
A spokesperson said: "Officers from the council's transportation and streetcare service have met with the local member, community council and local residents regarding installing a crossing at Llanaelhaearn.
"However, in order to locate the crossing at the most suitable site, the council must receive formal consent from landowners as a support wall needs to be erected close to their property as part of the work."
The spokesman added that site meetings had been held and the council was waiting for formal written consent to start work.