London 2012: Rower and teens to carry torch in Wales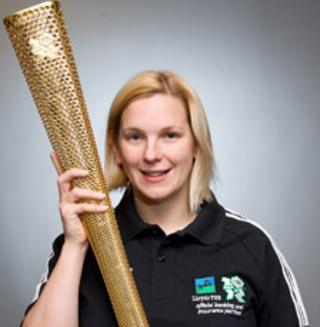 Hundreds of people in Wales have been told they will carry the Olympic torch as it makes its 70-day journey around the UK.
Many of the successful nominees were being contacted on Thursday.
They include charity rower Elin Haf Davies from Gwynedd, Sean Lewis, 16, from Caerphilly, and Bridgend teenagers Hannah Jarret and Kieran Mackenzie.
People were asked to nominate candidates for their achievements or contributions to their communities.
Around 8,000 people will carry the torch in the build up to London 2012 Olympics.
Conditional offers of torchbearer places are being made to 6,800 people on Thursday.
The remaining places will be offered in January.
The torch relay is due to arrive in Wales in Monmouth on 25 May.
It will travel through south and west Wales, up Cardigan Bay and across north Wales, leaving Welshpool on 30 May.
One of the highlights will come on 29 May when the Snowdon Mountain Railway will carry the Olympic flame in a lantern to the summit.
Ms Davies from Bala has rowed more than 5,000 miles across the Atlantic and Indian Oceans, raising £250,000 for research into rare children's diseases.
"Such an honour"
She said she was delighted to be offered one of the first places.
"It will be a very proud moment for me. It's a once in a lifetime experience and such an honour," she added.
Fourteen-year-old Hannah Jarrett's name was put forward because she has raised over £2,000 for diabetes research despite having numerous medical complaints.
She said: "It will be a very special opportunity and I hope to represent my friends, people at my school and from my home town and all young people with type 1 Diabetes."
Over 60,000 nominations were received across the UK.
Others in Wales being offered places include keen swimmer Kieran Mackenzie, 17, who has overcome a range of injuries and ADHD and Dyslexia to achieve a bronze medal in life saving.
He has also raised over £1,000 for his nephew who has Cerebral Palsy.
"Moment to shine"
Sean Lewis, 16, is described as "an inspirational teenager" for coaching hockey to local children in Caerphilly as well as helping his two bothers who have disabilities.
All the offers are subject to conditions and final confirmation.
An average of 115 people a day carry the flame on its 8,000 mile journey across the UK.
Sebastian Coe, chairman of the London Organising Committee of the Olympic and Paralympic Games (LOCOG) said: "Today we are one step closer to giving hundreds of people across Wales their moment to shine during the Olympic torch relay next summer."