Lack of critical care beds in Wales 'risk to patients'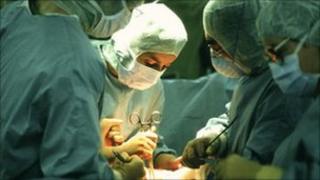 A lack of critical care beds in Wales may mean operations are more likely to be called off and put patients at risk, says a report.
Wales has fewer such beds per head of population than England, says George Findlay, of Cardiff and Vale University Health Board.
His comments come from a report that pre- and post-operative care in the UK is in a poor state across the board.
The Welsh government says it is working to improve care.
"The lack of critical care beds in Wales means that more operations are likely to be cancelled, or go ahead without critical care beds following surgery," said Dr Findlay, divisional director for specialist services.
"This may put high-risk patients in Wales at even greater risk."
The national confidential inquiry into patient outcome and death (NCEPOD) found fewer than half of all high risk surgical patients across the UK receive a "good" level of care when they go for treatment.
The study found that only 48% of patients who are at an increased risk of death from post-op complications were given the care they needed.
But Carol Lamyman Davies, director of the board of community health councils in Wales, told BBC Radio Wales more details was needed.
"Nothing has flashed up to us at this minute in time that there's a particular problem at any Local Health Board (LHB) in Wales," she said.
'Optimal care'
"That's not to say there isn't one but as CHC our volunteer members and officers will be looking in detail from now on to see whether in fact any or all of the detail contained in that report rings true for us in Wales and for patients in Wales."
A Welsh government spokesperson said: "The care of patients undergoing surgery must be exemplary. We welcome this latest report, the results of which will help inform us as we build on the work already under way to improve the situation.
"This includes elements of the 1,000 Lives Plus programme, including its Enhanced Recovery After Surgery programme, which puts patients at the centre and makes sure they receive optimal care.
"Critical care networks have reviewed both the current capacity and future needs across Wales and Local Health Boards have been looking how to progress the outcome and recommendations of this review.
"They should also be looking at the effective provision of critical care in light of the service modernisation plans being drawn up.
"Above all, it is essential that we make the best possible use of existing resources so that these services are available to the patients who need them most."