School banding in Wales defended by education minister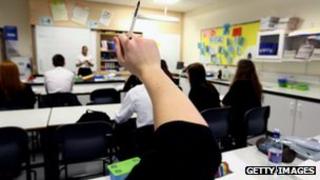 Education Minister Leighton Andrews has defended a system which identifies the best and worst performing schools in Wales, saying support will be given.
Secondary schools have been grouped in five bands based on GCSE exam results and pupil attendance, taking progress over time and deprivation into account.
Six of the 22 councils in Wales have no schools in the top band, while nine have no schools in the bottom band.
"It's only right that parents have access to this information," he said.
The Welsh government has denied the claims of teaching unions who say the bandings published on Thursday amount to a reintroduction of league tables which "name and shame" struggling schools.
Facing challenges
Schools with the best scores are placed in Band 1, whereas those with the worst are in Band 5.
There are 27 schools in Band 1 and 28 in Band 5. Neath Port Talbot has the highest proportion of schools in Band 1 while neighbouring Bridgend has the highest proportion in Band 5.
Merthyr Tydfil, Powys, Torfaen, Blaenau Gwent, Monmouthshire and Ceredigion have no schools in Band 1.
At the other end of the scale, there are no Band 5 schools in Neath Port Talbot, Newport, Pembrokeshire, Vale of Glamorgan, Torfaen, Carmarthenshire, Conwy, Denbighshire and Flintshire.
Schools in the bottom bands will receive support from four new regional school improvement services, which will be run by groups of local authorities.
However, BBC Wales understands the support services will not be operational until September 2012. The Welsh government says there will be extra support for councils in the meantime.
Speaking to BBC Radio Wales on Friday, Mr Andrews said: "The help that is on the way will be extensive.
"Yesterday I met with 10 local authorities representing two of the regional consortia in Wales and they both have ambitions that none of their schools will be in Band 5 in the next few years.
"One of them for example was talking about putting in place 40 days of support for individual schools in Band 5 and is putting in place the system leaders to give that support directly to the schools.
"So we're expecting local authorities to provide new support to schools facing these challenges."
Extra money
Mr Andrews also stressed that funding had been made available for the improvements.
He said: "We've put in additional money for schools on the basis of our new pupil deprivation grant, we're also increasing the budgets in education by 1% above the block grant we get from the UK government and we've put more money into our school effectiveness grant.
"All of the funding we're putting into the education system …. is there to improve performance.
"We're going to try and ensure that all schools improve and I think it's only right that parents have access to this information.
"It's identified schools that perhaps have been resting on their laurels and it's set out challenges for the entire school system.
"This is something that I think is going to help inform parents on the quality of performance of their schools and will drive up performance."
The banding system is being introduced as part of 20 reforms to drive up standards.
Plans to band primary schools are currently being developed, although it was revealed at least 30% would be exempt because they had too few pupils to produce reliable data.