Cancer treatment debate girl, Leah-Beth Richards, dies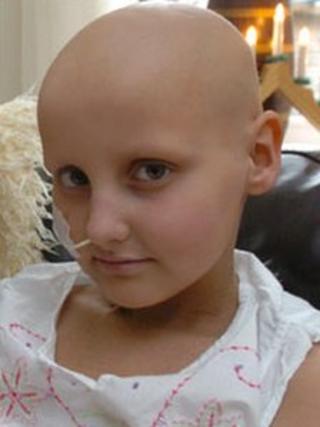 A teenager who was at the centre of a debate between her family and a health trust about whether she should continue her cancer treatment has died.
Leah-Beth Richards, 13, from Beddau, Pontypridd, had a rare kidney cancer.
In 2006, her family claimed that when they told the hospital about her decision to refuse treatment they were told they had no choice.
Leah-Beth died at home on Sunday. It is believed she did have further treatment.
A service will be held to celebrate her life on Monday.
Leah-Beth was diagnosed with the rare Wilms Tumour, which only develops in around 70 children in the UK each year, when she was two.
After six years of fighting the disease she told her family she did not want more treatment because it made her too sick.
At the time consultant paediatrician Colin Powell, assistant clinical director for child health for Cardiff and Vale NHS Trust, said the Richards family was "clearly facing a very difficult time".
He added: "We are continuing to support Leah-Beth and her parents, and to discuss the appropriate care with them directly."
An obituary in the Western Mail newspaper said Leah-Beth's wishes were that no-one should wear black to the service but bright colours instead.