Funeral for Welsh soldier L/Cpl Richard Scanlon killed in Afghanistan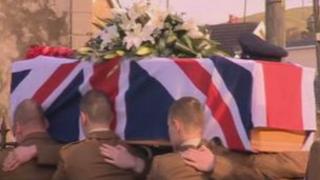 The funeral has taken place of a Welsh soldier killed in a roadside explosion in Afghanistan.
L/Cpl Richard Scanlon, 31, from Rhymney, Caerphilly, died alongside another member of the 1st The Queen's Dragoon Guards in November.
He and Lt David Boyce, from Hertfordshire, were on patrol in the Nahr-e Saraj area of Helmand Province when their vehicle was hit.
L/Cpl Scanlon's family said they were "extremely proud" of the soldier.
The funeral service at Penuel Baptist Church in Rhymney was led by Father Mark Owen and Lt Col Steven Griffith, padre at 160 (Wales) Brigade.
L/Cpl Scanlon was then buried at Rhymney cemetery.
In a statement, his family said: "Richard was a remarkable individual and unique in the truest sense of the word," said family members in an extended tribute to the soldier.
'Great comfort'
"He lived his life to the full, loved to socialise and enjoyed a drink.
"His family are extremely proud of him and of the good work he carried out.
"They will miss him terribly but take great comfort in the fact he was loved and respected by all who met him - especially family, friends and colleagues.
"He will remain in their hearts as his memory lives on."
L/Cpl Scanlon had previously served in Bosnia and twice in Iraq.
'Infectious smile'
He enlisted in the army in 1998 and joined the regiment in 1999. He was deployed in Afghanistan on 18 October.
Affectionately known as "Shag", L/Cpl Scanlon left the army in 2006 but rejoined in 2009 and was promoted to lance corporal in October last year.
The army paid its own tribute to him, describing him as a "genuine regimental character".
Lt Col Jasper de Quincey Adams, Commanding Officer, 1st The Queen's Dragoon Guards, said: "L/Cpl Richard Scanlon was one of life's great characters, always with an infectious smile and a tangible love of life.
"An experienced soldier, calm under pressure, he was hand picked as the troop leader's gunner on a demanding operational tour.
"He was a fighting soldier, cracking in the field or on operations, and in camp, his flamboyant character meant he could find fun in any situation.
"We will miss him terribly. Barracks life will have lost some of its sheen, but our tragic loss is insignificant compared to that of his family: his mother, stepfather, father and sisters Lisa and Emma, all of whom he loved so much."