Archbishop Rowan Williams thanks Polish GP for saving his life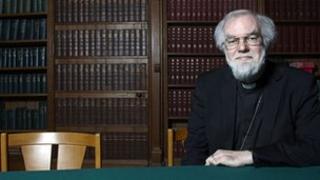 He is the Archbishop of Canterbury and leader to the world's Anglicans.
But if it was not for a Polish immigrant GP, Rowan Williams would have almost certainly died as a toddler in the Swansea Valley.
It was there in Ystradgynlais in 1952 that Dr Williams was diagnosed with a rare form of meningitis, when others had discounted it as simple 'flu.
Now, the archbishop has finally had the chance to thank Dr Wlodzimierz Boladz who is now 101-years-old.
The opportunity came almost half a century after they last met, as BBC Radio Wales documented Dr Boladz's incredible journey to Wales as a member of the Polish Resistance during World War II.
"My mother, in particular, was very sensitive to these things, as she was very seriously ill herself as a child," recalled Dr Williams.
"But I think she found it very hard to get anyone to listen to her concerns about me, other than Dr Boladz."
But the Polish GP himself admitted that initially not even he was convinced the infant Rowan Williams was seriously ill.
That was until he saw something which he recalled from his time practising in the Polish Ghettos.
No drugs
"The first time I saw him I thought maybe cold, maybe 'flu, no more," he said.
"The second time - my goodness, the expression on his face, the expression in his eyes, the stiffness in his neck, I knew the mother had been right, and this was meningitis."
"I saw a child in Poland like this, who died because we had no drugs to treat them. This picture stayed with me for a very long time, and that's what helped me diagnose the archbishop."
Dr Williams moved from Ystradgynlais when he was four-years-old, but said the name of his GP had remained with him.
"I always remembered the name Dr Wlodzimierz Boladz, as I owe my life to him," he stated.
In the documentary Dr Boladz talks for the first time about his role as a freedom-fighter in the Polish Resistance, and his struggle to treat people inside the Ghettos.
"It was very, very sad. As a doctor you can accept you don't know an illness, or if there's no cure," he said.
"But every day I watched children die from ordinary things, because there's no drugs, or food or clean water."
'The Polish Doctor' airs on BBC Radio Wales on Sunday, 10 December at 17:30 GMT