Architects' Brecon Beacons Flying House wins award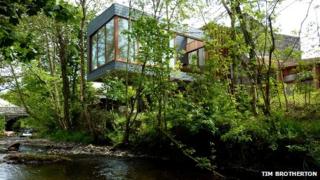 A couple who designed and built their own home in the Brecon Beacons in Powys are receiving an award from the Royal Society of Architects in Wales.
Sarah Featherstone and Jeremy Young both live and work together as architects, and have an office in London.
But they chose to build their home at Pont Faen near Brecon - and its unique design is now being recognised.
Ty Hedfan - or Flying House in English - rises above the Afon Ysgir river.
"We'd found the site, a former saw-mill - but its location and steep banks posed some serious challenges," said one half of the architectural partnership, 38-year-old Mr Young.
"Because of planning controls, you can't build right up to the river, so we managed to build right over the river bank."
Cantilever design
The living room of Ty Hedfan now juts out above the Afon Ysgir and into the young ash trees that flourish on the river bank.
"When you are sitting in the living room and look out, it is incredible to see these trees right up to you, swaying in the breeze," added Mr Young.
"Just living next to the river is fantastic."
The couple said the house reflected their ethos as architects.
"It was an opportunity for ourselves to practise what we preach, in terms of architecture," said Mr Young.
"I think the award for the house is great. It's nice to have awards, especially when you have built something for yourselves.
"It is nice to have your professional peers back you up."
The couple will be presented with their award on Monday at Ty Hedfan by the president of the Royal Society of Architects in Wales, Andrew Sutton.