Three economists predict low growth in Wales for 2012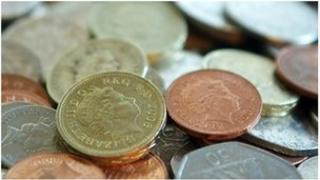 Three senior economists have warned that the Welsh economy will struggle to achieve growth in 2012.
Last month, the Office for Budget Responsibility (OBR) downgraded its forecast and said it expected the UK economy to grow by just 0.7% next year.
Wales lags behind the UK average for economic activity and around 50,000 jobs have been lost since 2007.
The economists gave their opinions at the start of the BBC Wales Crunch Christmas series, examining major issues facing the Welsh economy, including inflation, employment and retail.
Key indicators of the state of the economy are due to be published this week by the Office for National Statistics (ONS) including data on inflation and jobs.
Three senior economists based in Wales said they expected growth next year to be at, or below, 1%.
The latest assessments of growth suggest that the economy has slowed through 2011, with growing concern over the stability of the eurozone undermining confidence.
On Monday, a forecast by Standard Chartered bank suggested that the UK economy could shrink by 1.3% next year, worse than predicted by many economists.
Professor Patrick Minford of Cardiff Business School said the outlook was slower growth throughout the UK.
He said that forecast was "gloomy" and "overdone" and he expected growth to be around the 1% mark.
"I understand where they are coming from and it's a perfectly legitimate forecast," said Prof Minford.
"I think they are over-egging the eurozone crisis," he added.
But Professor David Blackaby, from Swansea University's School of Business and Economics, warned that growth was going to be "very flat and certainly less than 1%".
Mothballing
Prof Blackaby pointed to the fact that Wales, by proportion, has a greater dependence on manufacturing compared to the UK average.
"At the moment it is manufacturing which is being particularly hit," said Prof Blackaby.
"We've seen the mothballing again of the strip mill at Llanwern steelworks. We've seen, as a result of the euro crisis, the exchange rate of the pound appreciate against the euro - and that makes it much harder for manufacturers," he continued.
Prof Blackaby said that with continuing uncertainty, the prospects for the Welsh economy were difficult and it was hard to see what could drive growth.
"For the Welsh government, its budget is fixed and it can't borrow, so it can't do a lot," he said.
"Households are fearing unemployment and people tend to cut back - and we've seen that running up to Christmas with some of the consumer figures".
"So it's firms with cash balances that could invest and they're tending to hold on to their cash at the moment rather than invest it," said Professor Blackaby.
Job in manufacturing in Wales declined even during the boom times of the mid 2000s.
Figures from the ONS show that in March 2000 the number of workers in manufacturing in Wales stood at 214,600. By 2004, it had fallen to around 180,000. By June 2011 had dropped even further to 149,700.
Since 2007, the ONS figures show other sectors of the Welsh economy have also taken a battering:
The retail and public administration sectors in Wales have seen a loss of 12,000 and 11,000 jobs respectively.
Financial services, which saw steady growth after 2000, have also shrunk. At the high watermark in the summer of 2007, over 37,000 people worked in the sector in Wales. By spring 2011, this had fallen to 25,500.
Professor Kent Matthews from Cardiff Business School said it will become clear during the middle of 2012 whether the current crisis would lead to a "a permanent reduction in productive capacity" or if it was temporary.
He warned that we could be entering a very long scenario of lower growth.
Exchange rate
"Actually we will continue to grow next year - maybe 1% - and then after that we will grow at about what we've always grown in the past - 2%, 2.5% - but we'll never make up the trend in growth if we had carried on from 2007 as if nothing had happened," said Prof Matthews.
He believes manufacturing perhaps offers the best hope for the Welsh economy.
"That has traditionally been where we've done our best," he said.
"If you look at upturns in the economy from other recessions, Wales has been able to come out faster largely because of movements in the exchange rate," he said.
"The exchange rate is very much in Wales's favour right now. Export companies ought to be doing better than other parts of the United Kingdom," he continued.
"But if the world economy goes back into recession - a double dip - then of course it works the other way. Wales is also harder hit in a downturn in the world economy".
By contrast, Prof Minford, widely-known for his free-market views, said the service sector was much more likely to drive the UK economy.
"It's the usual suspects that will drive growth," he said.
'Pious nonsense'
"It will be finance, business services, consulting, industries like the media. These are the sorts of things where we make money," he continued.
"I think manufacturing will peg along but I think it will be more badly affected by the eurozone and that's a thing we'll have to live with for quite some time".
Prof Minford attacked what he called the "pious nonsense" that has led to calls for further regulation of the banking industry.
"We've had more and more demand for regulation of the banking system. This is all crazy stuff in my opinion. We have to liberate the banking system and get it more proactive again, get some competition in and stop constantly battering them".
Prof Blackaby said there was another potential threat to the Welsh economy on the horizon, in the form of regionalised pay for the public sector.
"If that happens, we are likely to see money taken out of the Welsh economy at a greater level than other parts of the UK," he warned.
Last week, a report warned that business confidence in Wales had slipped back into negative territory for the first time since the first quarter of 2011.
Sixty six bosses questioned by the Institute of Chartered Accountants in England and Wales (ICAEW) were on balance less confident about prospects.
BBC Wales across online, TV and radio is looking at the economy in a Crunch Christmas series this week. On Wednesday, unemployment will be examined and retail will be the focus of Thursday's coverage.