Senedd holds few income big levers but does what it can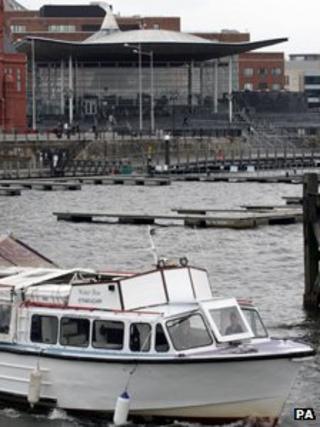 Call into the Cardiff Bay Barrage control room and you'll see how easy it is - when you know how - to open and close those sluice gates.
They can't exactly turn the tide at the press of a button but they can affect how much water goes into the bay and how much water flows out.
Look across the bay to the Senedd and it's a very different story. When it comes to how much money flows into the Welsh government's coffers, the economic levers of power are not in Cardiff Bay.
Carwyn Jones and his ministers can't vary how much tax we pay. It's not within their power to raise, or cut it.
Interest rates? Nothing they can do. They're not entirely free to borrow money either. In other words there's little the Welsh government can do to affect how much money it has to pump into the economy. What it does have is its share from Westminster of UK-wide public spending.
Listen to the opposition parties and they'll say the Labour government has done too little with what it has. Not true, says the first minister, who has pledged more than once not to "just sit back and let the tide wash over us. Far from it. In Wales, whilst we don't have all the economic levers at our disposal, we can still make a difference to people's lives".
So how?
Let's start with the obvious, direct grants for businesses. The government says two schemes in particular made that difference to thousands of people. There was ProAct, that offered money to help train the staff of struggling firms during the downturn and ReAct, which offered help for people who were laid off.
Competitive
For digital technology firm Cube Interactive the emphasis is on growing the business. They, along with other companies involved in the creative industries will soon be able to bid for grants to boost their businesses. Theirs is an industry where the government believes Wales can be competitive - so it's prepared to support it with public money.
Director Wil Stephens says it would make a real difference to his company, allowing them to invest in new technology, go out and compete and while they're at it, create jobs.
Another lever? Spending money on big capital projects, building schools, roads, boosting the economy by putting the money the government does have to play with into the pockets of workers.
How about varying business rates? The Welsh government's got a small business rate relief scheme. More than half of business properties in Wales benefit, but it follows very much the pattern over the border in England, ensuring a level playing field for small businesses here. It's also in the process of a review into how best its policy can support companies in the future.
But it isn't all about offering companies tax breaks - a point Nick Razey, chief executive of Next Generation Data in Newport is keen to make.
NGD owns a massive data plant, the largest in Europe. It's housed on the site of the former LG semiconductor - a business in which Welsh public companies invested heavily but that never got off the ground.
Big economic levers
The government is "a very supportive landlord" says Mr Razey, spotting opportunities for NGD and making connections with companies who have become good customers.
"We're a relatively young business and when you're a new business you have to establish your credibility. If you've got the Welsh government behind you saying this is a good company, you should use them, then that makes a big difference."
The big economic levers? Those certainly aren't in Cardiff Bay but the challenge for the Welsh government is to prove that what it can do is making a difference, while steering clear of bearing any blame for what it can't.